Scenes from the 2009 Maple Leaf Festival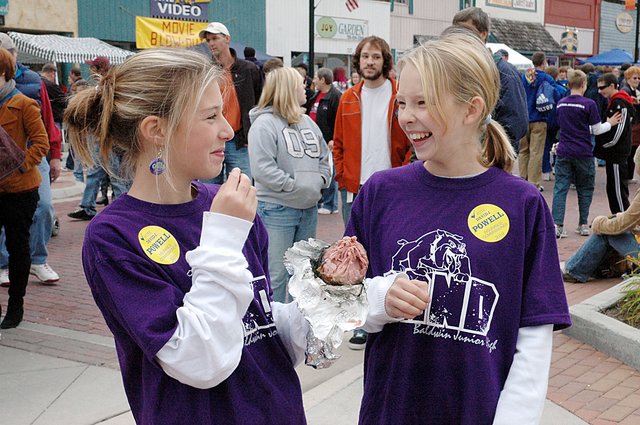 Isabelle Buckley, 12, and Natalie Shultz, 12, enjoy a laugh while sharing a turkey leg shortly after the parade Saturday afternoon. Both girls are Baldwin Junior High School students.
Stories this photo appears in:

After a cool start to the 52nd annual Maple Leaf Festival Saturday, the sun shined on the event for day two and another huge throng showed up for both days.

Although there was a lack of sunshine, there wasn't a lack of people for the 52nd annual Maple Leaf Festival here Saturday. The sun popped out on and off much of the day. But mostly it was off, and temperatures in the 40s reflected it. Just ask the sno-cone booth salesman.

3:30 p.m. — Judging from the difficulty in getting around in her golf cart to various locations, Maple Leaf Committee Chair Annie France says this year's crowd is as big as ever, despite the lack of sun and cool temperatures. The Pressgrove family's sno-cone booth hasn't been doing banner business, but thankfully they're making up for it with popcorn sales. See the Maple Leaf story in Sunday's Lawrence Journal-World, online here and in Thursday's Signal.
October 16, 2009 10:24 a.m.