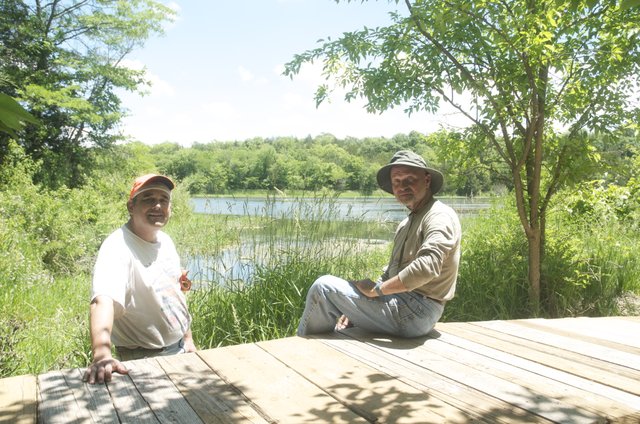 Rural Baldwin City resient Don Phipps, left, and Mike Goodwin, Kansas Trails Council Board of Trustees member, relax Saturday on a footbridge they built with three other volunteers at Douglas County State Lake. The bridge, which is part of a hiking trail that will connect the dam to the lake's southern boundary, was built from lumber milled from old electrical transmission poles that Westar donated for such projects.
Stories this photo appears in:
After a hard Saturday morning of work, Don Phipps and Mike Goodwin rested on a footbridge they installed at Douglas County State Lake. Aided by Stan Vickers, Dave Simmons, Gerard Arantowicz and a walk-behind track loader with multiple frontend attachments, Phipps and Goodwin spent the morning carving out sections of a trail on the west side of the lake. The morning had been productive, with the walking path laid down through prairie and woodlands from the southern end of lake property near North 375 Road to the footbridge spanning a small stream just north of the lake's southern-most access area.