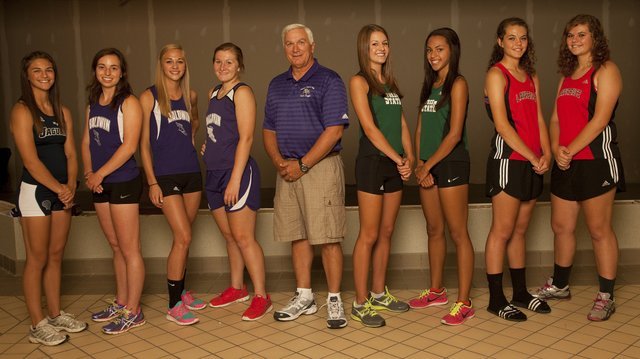 The 2013 Journal-World All-Area Girls Track & Field Team is: Emily Brigham, Mill Valley; Kaitlyn Barnes, Baldwin; Morgan Lober, Baldwin; Katie Kehl, Baldwin; Coach of the Year Ted Zuzzio, Baldwin; Bailey Sullivan, Free State; Athlete of the Year Alexa Harmon-Thomas, Free State; Matia Finley, Lawrence; and Rebecca Finley, Lawrence. Not pictured: Laura Kennard, Free State; and Jenny Whitledge, Tonganoxie.
Stories this photo appears in:

Life is good for the freshly minted National High School Athletic Coaches Association Hall of Fame inductee. Zuzzio's Bulldogs won the program's third 4A state title in the past four years this spring, and Baldwin won every meet it attended, while setting school records in six events.