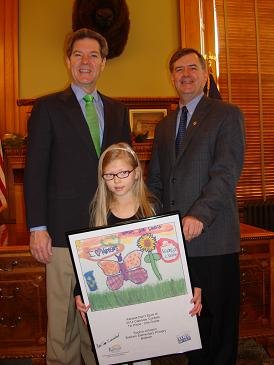 Baldwin Elementary School Primary Center second-grader Sophia Johnson
won first place for her grade level in the "Kansas Don't Spoil It!"
calendar contest. This annual art contest is open to all Kansas
students, grades K-12.
Sophia was accompanied by her parents, Randy
and Salli Johnson, and her art teacher, Sheryl Drew, to the State
Capitol in Topeka for Wednesday's awards ceremony. All of
the other winning students, their families and teachers gathered for
photographs and awards. Each student was given a framed poster of
their work signed by Governor Sam Brownback and their artwork will be
printed in the 2014 calendar.