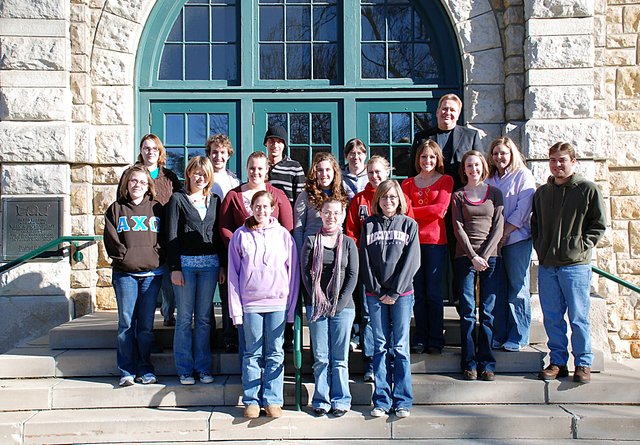 Baker University professor Lee Green, back row, has been taking students on study trips to Washington in inaugural years since 1989. This year's group will witness Barack Obama's inauguration and attend a ball Tuesday night. Students are, third row from left, Caitlin McGowan, Andrew Linenberger, Adam Kenne, Melissa Hasty, Jordann Johnson and Emily Stephens; second row, Kendra Hanson, Lena Sweyko, Jessica Porter, Sarah Luecke, Stephanie Brockmann, Dana Hacker and Adam O'Trimble; and front row, Briana Bever, Eris Blaser and Shannon Pulkabrek.
Stories this photo appears in:

Sixteen Baker University students won't just be earning credit between semesters this winter, they'll also get a chance to witness a little history, too. They will be traveling with their professor, Lee Green, to Washington, D.C., to witness the inauguration ceremonies for soon-to-be President Barack Obama.