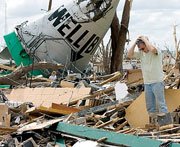 Amid the devastation from Friday's F5 tornado in Greensburg,
resident Don Stimpson looks through the rubble Monday for anything
to salvage from the Big Well Gift Shop, one of the town's main
attractions. Around 95 percent of the town's buildings did not
survive the tornado's destruction. In Baldwin City, several groups
are putting together efforts to help Greensburg residents to cope
with the disaster and rebuild their town. Among others, the Rotary
Club and Baker University have announced fundraising efforts.