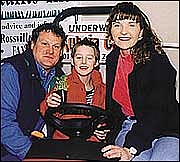 Jonathan Murray, center, and Randy and Kristi Billinger were
the first match from Big Brothers/Sisters of Baldwin City. They
have been spending a few hours a week together for about a month.
On Saturday, they attended a lawn and garden show in Ottawa,
because Jonathan likes rocks and Kristi likes flowers. Jonathan
also likes tractors, as picture above at the lawn and garden show.