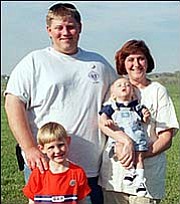 The Leeker family, Bill, Michelle, and their sons Zac, and Trevor,
11 months, are treasuring their time together as a family. Trevor
was recently diagnosed with Krabbe disease, a genetic disease that
is terminal. In March, doctors gave Trevor two or three months to
live. His family hopes he will live to celebrate his first birthday
on May 14.