Donald Lee Landis 1933 - 2015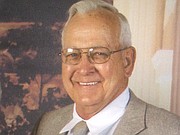 On the afternoon of October 6, 2015, Don passed away in McAllen, Texas.
Don was born March 13, 1933 in Lawrence, Kansas, the son of Ward and Edith Landis. He grew up in Pleasant Grove, Kansas where he was an avid member of the FFA. He graduated from Lawrence High School. He enlisted in the US Navy, served eight years, and was proud to have served aboard the USS Yorktown during the Korean War. After meeting Marilyn Osmonson in San Francisco, they married June 8, 1956 and settled in Vinland, Kansas, where they raised their family. Don farmed and worked as a chief mechanic for LRM. He was also a very proud member of the Baldwin City American Legion Post.
When you met Don for the first time, he made you feel as though you had been friends for years. He enjoyed the outdoors, traveling, and spending time with family and friends. He enjoyed retirement in Baldwin City, Kansas, and more recently, Mission, Texas.
Don is survived by his wife of fifty-nine years, Marilyn Landis; sister, Doris Nottingham of Lawrence, Kansas; his five children, Darleen Landis of Mission, Texas, Roger Landis (Becky) of Eudora, Kansas, Karen Suddarth (David) of Olathe, Kansas, Doyle Landis of Englewood, Florida, Gary Landis (Stephanie) of Huntington Beach, California. Don was also blessed with 11 grandchildren (Faith, Kelly, Nicholas, Tara, Ashlee, Crystal, Aaron, Jeremy, Rachael, Alden, Charlotte) and 11 great-grandchildren.
A celebration of life will be held Saturday, November 14, 2015 1:00-3:30pm at the American Legion Post at 803 High St. in Baldwin City, followed by graveside prayer service at the Oakwood Cemetery.