Stephen Earl Hobson 1925 - 2015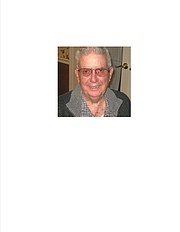 Stephen Earl Hobson, 90, of Jefferson City, Missouri, formerly of Baldwin City, Kansas, passed away on December 18, 2015. Stephen was born June 30, 1925 in Baldwin City, the son of Donald Stephen Hobson and Mary M (Barkley) Hobson.
Stephen graduated from Baldwin High School then went to serve his country in WW II, earning the Purple Heart. Once he returned to the states he attended Baker University for a year as well as the University of Kansas for a year. He was a proud veteran of the United State Army. He was also a member of the Ives Chapel Methodist Church of Baldwin City.
Mr. Hobson was a longtime Douglas County Real Estate Clerk retiring in June 1990.
On November 5, 1961, Stephen was united in marriage to Carmen Elaine Whitley in Baldwin City, Kansas. They shared over thirty five years of marriage until her death in October of 1997.
Stephen is also preceded in passing by his parents; and two brothers, Tom Hobson and Gene Hobson.
Stephen is survived by his daughter, Stephanie Thomas and her husband, Darryl, of Jefferson City, Missouri; three grandsons, Austin Thomas, Delaney Thomas, Keenan Thomas, all of Jefferson City, MO; one sister Donelda Lindholm and her husband, Dwain, of Baldwin City, KS; and several nieces and nephews.
Funeral services will be held at 11:00 a.m., Thursday, December 31, 2015 at Ives Chapel Methodist Church, Baldwin City. The family will meet with friends prior to the service at the church at 10:00 a.m. Interment will follow at Prairie City Cemetery, Baldwin City. The family suggests memorial contributions to Ives Chapel Methodist Church or American Legion Lloyd Beaton Post #228 c/o Lamb-Roberts Funeral Home, P.O. Box 64, Baldwin City, Kansas 66006. Condolences may be sent to the family through www.lamb-roberts.com.