Rose Marie Cook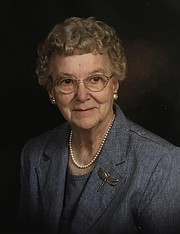 Rose Marie (Newland) Cook was born September 16, 1927 on a farm near Baldwin, Kansas to parents Charley Otis Newland and Blanche Elizabeth LaDuke Newland.
She lived in various places in Kansas as her father worked as a foreman over the mules and horses used on road construction crews in the 1930's. She moved to Braymer, Missouri, in November of 1937 from Abilene, Kansas.
Rose Marie graduated from Braymer High School in 1945 and returned to Baldwin, Kansas. At 17 years of age, she began teaching in a one-room school house (including teaching her sister, Charlene) while taking summer classes at Baker University. She then went on to teach at Edgerton, Kansas and Osage City, Kansas.
Rose Marie worked for and lived with a "wonderful old couple", Fred & Jessie Wightman, in Braymer, Missouri while attending high school. She also remembered a special teacher, Lee Simkin, in Braymer.
She completed her Bachelor of Science in Education in 1968 at Emporia Teachers College and her Masters in Early Childhood Education in 1980 at Emporia State University. She also completed a Masters in Special Education with an emphasis on Learning Disabled in 1985 at Emporia State University.
Rose Marie taught from 1982-1992 in the Davenport, Iowa, school system—making a total of 33 years teaching, with long runs in the third grade, the fifth grade, kindergarten and junior high emotionally disabled classes.
Rose Marie married Gayle Eugene Cook at 7:00 am on Valentine's Day, February 14, 1948 at Ives Chapel in Baldwin, Kansas. Their children are Gaylene Rose Tunison, Austin, Texas; Charles Robert (Deborah) Cook, Wellsville, Kansas; Theodore Ray Cook, MD (Karolyn, MD), Newton, Kansas; and Fred Samuel (Amy) Cook, Olathe, Kansas.
Rose Marie has fourteen grandchildren, five foster grandchildren, and eight great-grandchildren. She has several others she considers her own, including Timothy James Olson, Las Vegas, Nevada; M. Eugene Tunison (Sheryl), Oakton, Virginia; and others too many to name.
Rose Marie is preceded in death by an infant grandson, Corban Jonathan Cook; a foster daughter, Barbara Ann Martinez, her husband Richard, and their son Richard; her parents, Charley and Blanche Newland, her brother, Leonard Newland, and his wife Myrtle Lee.
Rose Marie was baptized at Warden, Kansas, in the Evangelical Brethren Church at age 18. She has been a member of the Osage City United Methodist Church since September 1956, except for 10 years while in Davenport, Iowa, where she was a member of Christ United Methodist Church.
Rose Marie's grandchildren are:
John (Anne, MD) Tunison, Farmers Branch, Texas; Sarah (Tom) Crawley, Sparks Glencoe, Maryland; Randall (Rachel) Cook, Topeka, Kansas; Robert Cook, Topeka, Kansas; Samantha (Mun Lai) Chong, Gardner, Kansas; Eric Cook, David Cook, Isaac Cook, and Max Cook, all of Olathe, Kansas; Christopher (Anna) Cook, Clarkston, MI; Caleb Cook, Wichita, Kansas; Chad Cook, Manhattan, Kansas; Katy Cook, Newton, Kansas.
Rose Marie has two surviving sisters, Mildred (Rev. Floyd) Couch, Braymer, Missouri; and Charlene (Keith) Rockhold, Centropolis, Kansas.
The family will meet with friends from 6 to 8 p.m. Wednesday, December 9, 2015 at Ives Chapel Methodist Church, Baldwin City, Kansas. Funeral Services will be 10:00 a.m., Thursday December 10, 2015 at Osage City First United Methodist Church, Osage City, Kansas. Burial will be 2:00 p.m. at Oakwood Cemetery, Baldwin City, Kansas. The family suggests memorial contributions be made to United Methodist Church of Osage City, the children's section of the Osage City Library, or the Corbin Clinic in Oaxaca, Mexico in care of Lamb-Roberts Funeral Home, P.O. Box 64, Baldwin City, KS 66006.
Condolences may be sent through www.lamb-roberts.com.
Rose Marie is perhaps best remembered by the phrase oft used to describe her:
"She never met a child she didn't love."