Mary Ellen Woody 1930 - 2014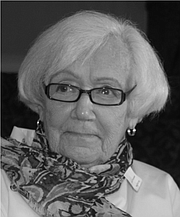 Died 11/19/2014
Our beloved mother, Mary Ellen Woody has gone to meet her savior. Mary Ellen Landrum was born in Columbus, Ohio on July 2, 1930. She and her brother Richard grew up in Columbus, Ohio and attended Bexley High School. Upon graduation she attended The Ohio State University where she joined the Delta Gamma sorority.
As a school teacher in San Diego, Mary Ellen met Wayne V. Woody in Coronado, California and they were married on February 11, 1956. They were blessed with 56 years of marriage.
Wayne and his family spent time in Harrisburg, PA, Peoria, IL., Sioux City, IA. and Springfield, IL. before retiring to Baldwin City, KS. in 1986.
Besides teaching school for years, Mary Ellen was an active hospital volunteer in Sioux City and Lawrence. She loved dancing, playing bridge, golfing, knitting and spending time with her children and grandchildren, especially Adam Creviston. Her Catholic faith was very important to her all of her life.
Over the years with Wayne, she developed a passion for sports, especially baseball and University of Kansas basketball.
Mary Ellen was preceded in death by her husband Wayne, a son Stephen, her parents Gail and Bernice Landrum and her brother Richard. She is survived by her daughter Cathy and her three sons; Michael (Susan), Richard (Mary) and David (Erika) plus eight adoring grandchildren.
The family would like to offer sincere thanks to Visiting Nurses in Lawrence, KS., Candy Patterson and her team at Because We Care Nursing, Lawrence Memorial Hospital and Doctors Brian Hunt and Matthew Stein, and all the caregivers at Brandon Woods at Alvamar in Lawrence, KS. Our mother was blessed in her final days by each and every one of you.
A rosary was said at 6:00 p.m., Friday, November 21, 2014, at Annunciation Catholic Church, 740 N. 6th St., Baldwin City, followed by a visitation at 6:30 p.m. A funeral mass was held at 10:00 a.m., Saturday, November 22, 2014, at the church. Inurnment Mt. Calvary Cemetery, Baldwin City.
The family suggests memorial contributions to Leukemia & Lymphoma Society or Visiting Nurses of Lawrence c/o Dengel & Son Mortuary, 235 S. Hickory, Ottawa, Kansas 66067. Family and friends are encouraged to leave their condolences and memories on Mrs. Woody's Celebration Wall at www.dengelmortuary.com.
Please sign this guestbook at Obituaries.LJWorld.com.