Glen D. Stecher 1923 - 2014 Atchison, KS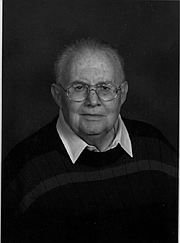 Glen D. Stecher, 91, of Atchison, KS passed away Wednesday, October 29, 2014, at the Atchison Hospital.
Memorial service will be 10:00 AM Saturday, November 8, 2014 at Becker-Dyer-Stanton Funeral Home, Atchison, KS, with Rev. Lee Hendon, officiating. Burial of cremains will follow at 2:00 PM at Highland Cemetery, Ottawa, KS. Memorial contributions are suggested to the First Christian Church, Atchison, KS and may be sent in care of the Becker-Dyer-Stanton Funeral Home who is handling the arrangements. Condolences to the family may be left online at www.beckerdyer.com.
Glen was born on January 13, 1923 in Leloup, KS, the son of Roy and Ada (Lutter) Stecher. He served in the United States Army during World War II. Glen graduated from Baker University with a Bachelor's Degree. He married Dolores Jackson, they later divorced. Glen owned and operated Glen D. Stecher, CPA. He attended First Christian Church, and was a Masonic Mason.
Glen married Betty Jones, she preceded him in death. Glen is survived by two sons; Gary and Linda Stecher, Atchison, KS, Mark and Mary Stecher, Atchison, KS, a special friend Bettie Linscott, grandchildren; Jason Stecher, Michael (Gina) Stecher, David Stecher, Tony (Rinda) Stecher, Justin (Stephanie) Stecher, great grandchildren; Aiden, Jackson, Talon and Waylon Stecher.
He was preceded in death by his parents, a brother; Cecil Stecher, two sisters; Irene Ball and Anabel Losorwith.
Please sign this guestbook at Obituaries.LJWorld.com.