Harold Lloyd Keithley 1933 - 2014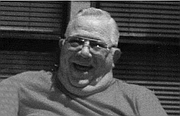 Harold Lloyd (Shorty) Keithley age 80, of Baldwin City, passed away Tuesday, July 21, 2014, at his home. Harold was born November 8, 1933 in Nemaha, Nebraska the son of Everett and Agnes (Merritt) Keithley
He grew up in Nemaha and graduated from Nemaha High School with the class of 1952. During high school he was very active in athletics participating in football, basketball, baseball, and track.
Harold worked for the Rodeo Meat Company and the Great Lakes Pipeline and in 1955 he started working as a sign hanger and crane operator for several different companies. He joined the Sheet Metal Workers Union # 2 in Kansas City, Missouri that year also. He later retired in 1990.
Harold enjoyed his retirement spending a lot of time with his sons and the rest of his family. He and his sons made a trip to Canada to fish that is still talked about at family get-togethers. He was an avid sports fan and enjoyed going to the car races movies or country music shows with the love of his life, Betty. The made several trips to Branson and loved to go to Lake Tahoe together.
On May 26, 1953 Harold was united in marriage to his high school sweetheart, Betty O. Tolle, in Kansas City, Kansas. They shared 61 years of marriage together. Betty survives of their home.
Harold is also survived by four sons; David Keithley and his wife, Debbi, of Lansing, Dwain Keithley and his wife, Joan, of Paola, Steve Keithley and his wife, Lisa, of Baldwin City, Rick Keithley and his wife, Angie, of Tecumseh, six grandchildren, seven great grandchildren, fifteen nieces and nephews.
Harold was preceded in death by his parents, four brothers, five sisters, a son, Danny, and a daughter Nancy, who died in infancy.
Mr. Keithley will be cremated and services will be private. In lieu of flowers, and in Harold's memory, the family suggests memorial contributions may be made to American Heart Association or American Diabetes Research Foundation, c/o Lamb-Roberts Funeral Home, P.O. Box 64, Baldwin City, Kansas 66006. Condolences may be sent to the family through www.lamb-roberts.com.
Please sign this guestbook at Obituaries.LJWorld.com.