Alice Mae Broers 1927 - 2014 Wellsville, KS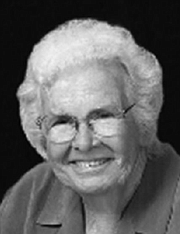 Alice Mae (Turner) Broers, 86, of Wellsville, Kansas, passed away on June 30, 2014, at her home in Wellsville, KS. Alice was born in Richter, KS on July 29, 1927 to Ralph Benjamin and Ruth Marie (Miller) Turner.
Alice graduated from Ottawa High School in 1946 and later received an emergency war-time teaching certificate from Ottawa University. Alice taught at area rural schools for 9 years. She also farmed and raised cattle.
Alice was united in marriage to Loren Joe Broers on November 14, 1954 in Wellsville, KS. He preceded her in death on June 16, 1967.
Alice enjoyed spending time with her family. She also enjoyed many hobbies like crocheting, caning chairs, painting, gardening, canning, cooking, and weaving as well as raising cattle and farming.
She was also preceded in death by her parents; a brother, Leroy Turner; and twin grand-daughters.
She is survived by three daughters, Shirley Marie Broers, Ottawa, KS, Jill Robbs and husband, Ken, Baldwin City, KS, Lori Mae Ishmael and husband, Stephen, Ottawa, KS; seven grandchildren, April, John, and Jenny Robbs, Baldwin City, KS, Cadence, Isaac, Alice Ann, and Emery Ishmael, Ottawa, KS; a brother, Lyle Turner and wife, Kathy, Ottawa, KS; a sister-in-law, Gertrude Turner; and several nieces and nephews.
The family will receive friends for a visitation service on Wednesday, July 2, 2014 from 6-8 p.m. at Lamb-Roberts Funeral Home, Ottawa, KS. Funeral services will be held Thursday, July 3, 2014 at 10 a.m. at Wellsville Baptist Church, Wellsville, KS. Burial will follow at Oakwood Cemetery, Baldwin City, KS. Family suggests memorials be made to Wellsville Baptist Church in care of Lamb-Roberts Funeral Home, PO Box 14, Ottawa, KS, 66067. Condolences may be sent to the family through www.lamb-roberts.com.
Please sign this guestbook at Obituaries.LJWorld.com.