Darrel D. Maley 1950 - 2014 Wichita, KS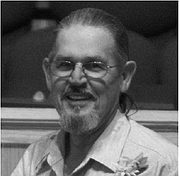 Darrel "Whitey" Maley, 64, passed away at his home in Wichita, KS on Wednesday, August 13, 2014. Darrel was born January 20, 1950 in Logan, KS the son of George Everett Maley and Ruth Irene Brethouwer and the youngest of 7 children.
In 1968 he graduated from Logan High School, then attended Fort Hays State University for two years. Darrel married Pam Hovland on May 16, 1983. He lived in Parkville, MO and Lawrence, KS where he retired from the construction industry in 2010. He moved to Wichita where he married Cindy Davidson on January 15, 2011.
Darrel is survived by his wife, Cindy; two sons, Chris Maley of Baldwin City, KS (wife Danielle) and Mark Maley of Baldwin City, KS (wife Kaley), three step sons, Darrin Habiger of Scott City, KS (wife Michelle), Dustin Davidson of Webb City, MO and Brandon Davidson of Kingman, KS (wife Bridget ), step-daughter, Rebecca Hodge of Spring, Tx (husband Paul). Darrel is also survived by three sisters, Donna Hopper of Logan, Ks. (husband Lewis), Leora Forsberg of Hays, Ks. (husband Don), Darlene Becker of Logan, Ks. (husband Clifford), brother Ron of Milford, Ks. (wife Deanna), and brother-in-law Norman Fox of Salina, Ks. Also surviving are the 16 grandchildren, numerous extended family, and countless friends.
A celebration of life service will be held at a later date for family and friends.
Memorials can be made to the Darrel Maley Memorial Fund C/O Price and Sons Funeral Home, Po Box 553, Scott City, Ks 67871.
Please sign this guestbook at Obituaries.LJWorld.com.