George Newton Holloway 1925 - 2014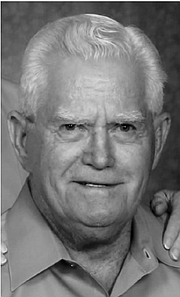 George passed away at the VA Hospital in Claremore, OK on July 30, 2014, at 89 years of age. He was born on January 14, 1925 in Cement, Oklahoma to Jesse and Mabel. He was the youngest of two sons. In 1943 he graduated from Baldwin High School in Baldwin City, KS and then joined the Marine Corps. He completed his training in San Diego, CA and served as an infantryman in World War II fighting in the Pacific (Guam & Iwo Jima) for which he received a Purple Heart medal and Gold Star medal. Upon returning from the war, he met Violet Geneva Baker in Paoli, OK and married her on his 21st birthday. They had two children, Dean and Rex. George received his undergraduate degree from McPherson College in McPherson, KS in 1950 and his master's degree from Oklahoma A&M in Stillwater, OK in 1951. He and his family moved to California in 1955 and settled in Escondido. He worked as a teacher for 30 years, retiring in 1980 from Del Dios Middle School. Once retiring George and Violet moved to Baldwin City, KS where George farmed and worked for the ASCS. They eventually sold their land and moved to Chickasha, OK for 21 years and then to Tulsa, OK for 2 years. George is survived by his wife Violet. They were married for 68 years; 2 sons Dean of Moundridge, KS and Rex (fiance' Katie) of Chickasha, OK; 5 grandchildren, Brian (wife Jodi), Vanessa (husband Beau Driggers), Jacy (fiance' Lindsey), Tara (husband Nick Churchill), Deena (husband Casey Wilson), 14 great-grandchildren; 2 brothers-in-law, Bob Baker (wife Mary) and Gary Baker; 2 sisters-in-law, Wanda Holloway & Donna Patton. He is preceded in death by his mother, Mabel (Goodwin) Holloway; father Jesse Carol Holloway; brother Jesse Holloway; sister-in-law Patty Hesch; daughter-in-law Mary Holloway; and great-granddaughter Brianna Holloway.
Interment of the cremated remains will be at Paoli Cemetery at a later date with family attending. He was the kindest man you ever knew. He will truly be missed by those he left behind, but will never be forgotten. In lieu of flowers, the family suggests donations to the Alzheimer's Association.
Please sign this guestbook at Obituaries.LJWorld.com.