Genice Isabelle Kay 1924 - 2014 Baldwin City, KS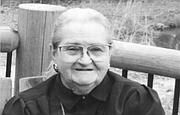 Geneice "Gene" Isabelle Kay, 89, of Baldwin City, Kansas passed away on April 13, 2014 at her home. Gene was born in Iowa City, Iowa on December 2, 1924 the daughter of James Earl and Minnie Artabell (Ford) Hayden. Gene spent her formative years in Illinois and graduated High School in 1942 from East Moline High School in East Moline IL.
Gene moved to Overland Park, Kansas in 1958 and to Baldwin City, Kansas in 1961. Gene was employed as a computer entry clerk at Bendix Aviation until her retirement in 1975.
Gene loved nature, plants, birds and puppies. She watched birds & owls from her windows. She loved Birds & Blooms Magazine. She loved spending time with her family especially her grandchildren and great- grandchildren
On December 6, 1942 Gene was united in marriage with Duane Adrian Kay in Port Byron, IL. He preceded her in death March 17, 1966.
She was also preceded in death by her parents and brothers James Hayden and Richard Hayden.
She is survived by: sons Larry Kay, Steve and wife Bonnie Kay of Baldwin City, Kansas: granddaughters Kristi Miller, Baldwin City, KS, Kelly Turner Seattle Washington, Lori Howard, Lawrence, Kansas, grandson Brian Kay, Hamilton, Ontario Canada; brother Edward Hayden Silvis, IL; and 8 great-grandchildren.
Funeral services will be at 2:00 p.m. Wednesday, April 16, 2014 at Lamb-Roberts Funeral Home, Baldwin City. Burial will be at Oakwood Cemetery, Baldwin City, following the funeral.
Family suggests memorials be made to Baldwin Food Pantry in care of Lamb-Roberts Funeral Home, PO Box 64, Baldwin City, KS 66006. Condolences may be sent to the family through www.lamb-roberts.com.
Please sign this guestbook at Obituaries.LJWorld.com.