Lisa Michelle Clipsham 1972 - 2013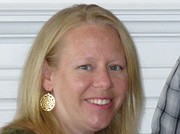 Lisa Michelle Clipsham passed away on August 25, 2013 after a two and a half year battle with brain cancer. She spent her last days at home surrounded by family and friends. Lisa was born on February 16, 1972 in Portsmouth, Virginia. She and her parents moved to Kansas shortly after she was born. Lisa grew up with her mother Rosalie and her sister Renee in Overland Park, Kansas. As a child she enjoyed swimming, gymnastics and teasing her younger sister. In high school she excelled in forensics as a stand-up comic. Her unique sense of humor followed her throughout her life. In high school she also met the love of her life, Caleb Clipsham. He was her high school and lifetime sweetheart.
Lisa attended Baker University and received a Bachelor of Arts in Education with a minor in Art Education in 1996, and a Masters of Education Administration in 2006. The majority of her 17 year teaching career was spent at Liberty Memorial Central Middle School in Lawrence, Kansas, first as an art teacher and then as the Assistant Principal. She touched many lives throughout her career in education with her talents in art, teaching, fair discipline, good humor and sarcasm. Lisa deeply enjoyed teaching. She also found special joy in being a mother and spending time with her husband, daughter and son. She maintained close ties with extended family and many friends. She will be very deeply missed by all of them.
Lisa is survived by her husband, Caleb Clipsham, daughter Avery, son Arlo, of Baldwin City, Kansas, her sister Renee Hiebert and her husband Scott Bossell, Driggs, Idaho, her mother Rosalie Miller and husband Steve, Olathe, Kansas, and her father Ron Hiebert and wife Diane and their daughters Lindsey and Cassie of Flagstaff, Arizona.
A memorial gathering will be held at the Lumberyard Arts Center, 718 High Street, Baldwin City, Kansas on Saturday, September 7 at 3:00 p.m. In lieu of flowers the family requests support for Lisa's children's education. Memorial contributions may be sent to the Clipsham Education Fund, Baldwin State Bank, P.O. Box 46, Baldwin City, Kansas 66006.