Loretta Lawrenz 1937 - 2013 Lawrence, KS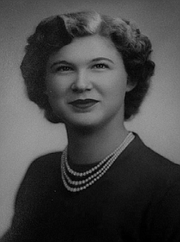 Services for Loretta Lawrenz are scheduled for Saturday, November 2, 2013, at Wilson & Sons, in Wellsville, Kansas. The family will receive visitors at 10:00 a.m. and services will commence at 11:00 a.m. Interment will be at the Vinland Cemetery in Vinland, Kansas.
On October 25, Loretta Lee (Cooper) Lawrenz stepped from the arms of her loving husband, James Lawrenz, into the arms of her heavenly Father. Loretta was born on March 14, 1937, in Lawrence, Kansas. She was raised in the rural Vinland community, the third of five children born to Clifford Cooper and Lela (Newton) Cooper. Loretta played on the girls' basketball and badminton teams until polio halted her athletic endeavors in 1952. Loretta graduated from Vinland in 1955, then obtained a degree from the Clark School of Business in Topeka and found employment in the stenopool at the Kansas Treatment for Children Center, also in Topeka. Loretta married James Lawrenz on November 25, 1958. They lived in Lawrence until February 19, 1965, when they moved into the current family home in the rural Baldwin/Wellsville area, where she established a home filled with love, laughter, lilting melodies and the hearty fragrances of homecooking. Loretta had been active in her church, singing in the choir and playing the organ.
Loretta will be missed for her lovely smile, dainty giggle, strong hugs and the beautiful melodies that carried often on a summer breeze.
Those who remain to honor her life and legacy include her husband, James Lawrenz, of the home, son, Kevin Lawrenz, Overland Park, daughters Lois Lawrenz, Olathe and Angela Watts (and husband Kevin), Baldwin, five grandchildren: Vanessa Anderson, Gardner, Jeremy Lawrenz, Gardner, Tristan Mason (and wife Vanessa), Olathe, Daniel Lawrenz, Gardner, Sean Lawrenz (and wife Kacey), Ottawa, great-grandchildren: Isaiah, Dana, Trenton, Molly, Ryan, Aubrianna, Kynzie, Jacob, and Adayla, sisters Marian Wiseman, Lawrence, and Myrna Clark (and husband, Jim), Deanville, Texas, and brother Warren Cooper (and wife Jane), St. Louis.
Those who have gone before and, with Jesus, welcomed her to the Throne of Grace include her parents, her brother Wayne Cooper, and daughter-in-law Inge Lawrenz.
The family suggests memorial contributions to the March of Dimes, who assisted greatly when Loretta had polio, or to the Samaritan's Purse. Please sign this guestbook at Obituaries.LJWorld.com.