Patsy Ruth Findley 1928 - 2013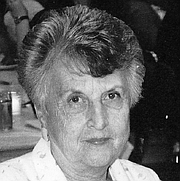 Patsy Ruth Dillon Findley passed away on Tuesday, October 8, 2013. She was born to Ephriam (Jack) and Irene Dillon on March 31, 1928, in Lawrence, Kansas. She was married to Frank Findley for 58 years before he passed in 2007. During her 85 years, Patsy lived in Pleasant Grove, Lawrence, Prairie Village and Baldwin City.
While most of Patsy's life was devoted to raising her three children, she and Frank owned and operated the popular PAT'S DARI RING for more than 10 years. She and Frank retired early to enjoy winters in Texas where many new friends were made. Then in the summers they headed to cooler weather spending time in Colorado enjoying and 'working' at a dude's ranch.
Patsy loved cards, bingo, and the casinos. If she wasn't enjoying a competitive bridge game with local friends or a lively evening playing bingo, she and son Eric would make trips to the ever popular casinos in the area. Her most recent times were spent talking to her wonderful neighbors on her front porch at Signal Ridge Villas .
Patsy was preceded in death by her father, mother, and husband. Surviving family includes: brother, John Dillon, children Deborah (John) Purvis, Mark (Connie) Findley, Eric Findley ; 4 grandchildren, Kent(Maggie)Purvis, Brett(Shae)Purvis, Winston(Joanna) Findley, Whittney Findley; and 5 great-grandchildren, Ben,Landry,Hank,Kale and Cal.
Memorial Service will be delayed and held on Saturday, November 30, at Oakwood Cemetery at 11:00am. In lieu of flowers, the family is requesting memorials be made to Ives Chapel Methodist Church in Patsy's name.
Please sign this guestbook at Obituaries. Please sign this guestbook at Obituaries.LJWorld.com.