Marilyn Kay Rockhold 1938 - 2013 Olathe, KS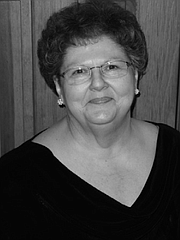 Marilyn Kay (Twichell) Rockhold age 75, of Olathe, KS, died October 28, 2013 at Olathe Medical Center. She was born February 25, 1938, in Lawrence, KS, the daughter of Eugene and Leone Twichell.
She lived in Baldwin City KS, then moved to Kansas City for 25 years, then to Oklahoma for 30 years, and back to Olathe for the past 18 years.
Marilyn was a Registered Nurse serving at St. Lukes hospital, Menorah hospital, and then an ER Nurse in Oklahoma.
Marilyn was a member of the Bible Chapel of Shawnee, KS.
On April 6, 1958 she was united in marriage to Robert Rockhold in Baldwin. They shared 55 years of a loving marriage together.
Marilyn was preceded in death by her parents.
She is survived by her husband, Robert, of the home; a sister, Burdine Tayor of Baldwin City; four daughters, Wendy Rankin and her husband, Robert of Indianapolis, IN, Karen Price and her husband David of Crown Point, IN, Janet Price and her husband Steve of Overland Park, KS, and Valerie Ericson and her husband Todd of Colorado Springs, CO; 25 grandchildren and one great-grandchild.
Funeral Services will be held 1:30pm., Saturday November 2, 2013, at First United Methodist Church, Baldwin City KS. Burial will follow at Oakwood Cemetery, Baldwin City. A visitation will be from 6 p.m. to 8 p.m. on Friday, November 1st at Lamb-Roberts Funeral Home, Baldwin City, KS.
The family suggests memorials to be made Bible Chapel of Shawnee or American Diabetes Association % of Lamb-Roberts Funeral Home, PO Box 14 Ottawa, KS 66067.
Condolences may be sent to the family through www.lamb-roberts.com.
Please sign this guestbook at Obituaries.LJWorld.com.