Fiber optic cable live in Baldwin City; Baker to have service soon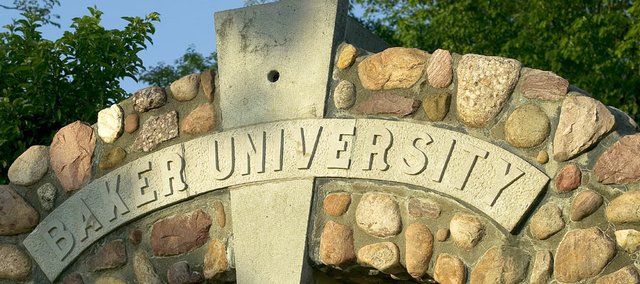 A little more than a month into his college experience, Baker University freshman Mitchell Lierz is about to get more value from dorm living.
As of Tuesday, RG Fiber had two operating connections providing gigabit Internet capacity to Baker's Baldwin City campus, said Mike Bosch, CEO of the Baldwin City-based RG Fiber. With a few tweaks, that service will be available on campus and to the 500 of the school's 900 students living in its on-campus dorms or apartments.
Lierz, a freshman from Sabetha, said there was a good deal of excitement on campus of the development, which he shared. 
"The Internet has been slow and inconsistent," he said. "Getting faster Internet will help with simple things like research. It will be nice to have when it's cold or rainy out, so you don't have to go to the library to use their faster computers."
The goal of Bosch and Baker officials was to have the service operating when students returned to school in August. That schedule hit a snag as issues developed with the wholesale vendor who links the end of RG Fiber's installed cable near Eudora to downtown Kansas City, Mo., Bosch said.
That has been addressed, and RG Fiber was able to "light up" its office a block south of the Baker campus on Sept. 18, Bosch said.
With the connections to the campus, Baker technicians need to make a few "tweaks" to its internal firewall and routers and test the system before making it available campuswide, said Andy Jett, Baker vice president of strategic planning and academic resources.
"It's pretty clear we can make it happen pretty quickly," he said, estimating Monday morning that full service should be available in at least 10 days.
Jett, too, said there was considerable excitement on the Baker campus, particularly among dormitory residents struggling with unreliable and slow connectivity.
"I know for a fact most of the private schools we compete with don't have this capability," he said. "We're just excited about having this infrastructure, not only to improve connectivity for our students in the dorms, but to open up services we can provide academically as well."
Bosch said RG Fiber's next step would be to start providing service in Baldwin City to those who have signed up in advance and who live near the company's existing lines. It will then expand out to other customers in the community, he said.
On his plate is a discussion with the city to gain access to the city's utility poles on which the Baldwin school district's fiber cable is strung, Bosch said. In May, the district agreed to lease the use of 12 of its 24 fiber strands to RG Fiber for $1,500 annually for the next five years. The district's cable connects its east and west Baldwin City school campuses to its central offices on Chapel Street just north of the Baker campus.
Bosch said he foresaw the buildout of the Baldwin City system progressing fairly quickly. It's completion would allow RG Fiber to expand into two other cities, Eudora and Lawrence, which sit along its fiber optic cable trail to Baldwin City, he said.
"This is the fun part, hooking people up for service," Bosch said.
To help with service delivery to new customers, RG Fiber has hired Chad Meyers, who has 14 years' experience working for Sunflower Cable and Knology in Lawrence, Bosch said.