Douglas County Sheriff's Office receives $200,000 grant to help mentally ill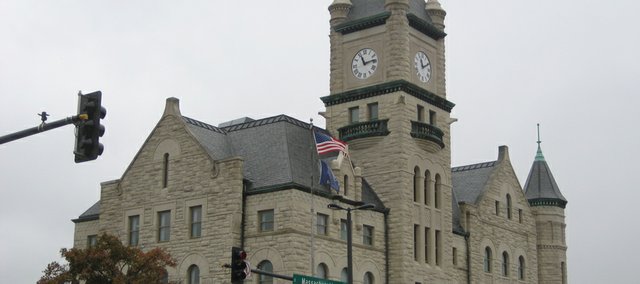 A nearly $200,000 federal grant awarded to the Douglas County Sheriff's Office on Friday will help divert an estimated 25 people each month to treatment alternatives to jail.
Funds from the grant, totaling $199,101 over two years, will help the sheriff's office hire two Assess-Identify-Divert (AID) case managers through a partnership with Bert Nash, said Mike Brouwer, reentry director for the sheriff's office.
The case managers will assess an estimated 50 potential jail inmates each month, Brouwer said. In particular, they will examine veterans, women and those suspected of suffering from serious mental illnesses.
The jail has seen a recent uptick in female inmates, and of the estimated 50 people assessed each month, about 20 of them will be women, Brouwer said. Of the estimated 25 people who will receive aid each month, about 10 will be women.
"We're trying to develop a process to assess someone and say, 'OK, this person is not a risk to the community from a criminal standpoint, but they do have needs,'" Brouwer said. "And we have the opportunity to divert them to a more appropriate area instead of putting them in jail."
Alternative options to jail — which may include the incorporation of a mental health court, private aid intervention, crisis intervention and more — are a part of an ongoing discussion about a potential jail expansion and mental health crisis intervention center projects in Douglas County.
The grant money, which was awarded from the Bureau of Justice Assistance, is not expected to come through until around January, Brouwer said. In the coming months, however, the organization will partner with Bert Nash Community Mental Health Center to hire and train the two AID case managers who will work at the jail.
Technically, the case managers will be Bert Nash employees, said David Johnson, the organization's CEO, who said he was pleased to hear of the award.
"I'm really appreciative of getting the grant," he said. "It's an example of the strong working relationship that we've already established with the sheriff's office and the jail and our commitment to make sure everybody is getting the care they need."
Although news of the grant is still fresh, Johnson said he expects the organizations to "get the ball rolling" soon as far as hiring the case managers and developing a plan of attack.
"It's great to get the additional resources to get that going," he said.
Brouwer said he and representatives from Bert Nash and Kansas University will provide an additional $54,765 of in-kind support to establish the program, write policies and track the ongoing progress. That support, which will largely consist of hours of work rather than cash, acts as a sort of investment that qualifies the organizations for the grant.
Another community partner for the ongoing work at the jail is the Lawrence Community Shelter, said Trey Meyer, the shelter's director of programs.
All too often, those with serious mental illnesses end up in the shelter or in the hands of police officers, but they don't belong in jail, Meyer said in an email.
"We do what we can with what we have, but we are not equipped to provide the kinds and levels of care that these people often need," Meyer wrote. "As such, we enthusiastically support the identification and development of resources to help people in those circumstances, and we look forward to working with law enforcement, the Bert Nash Community Mental Health Center and KU to address this issue."