Baldwin City miniature horse farm ready for Kaw Valley Farm Tour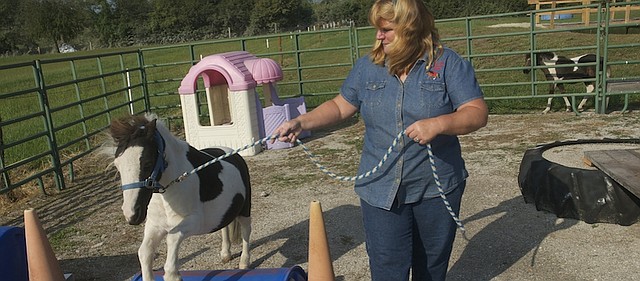 Dee Hay says there's something about miniature horses that win people over.
Hay, who owns Prairie City Miniature Horses south of Baldwin, said the horses she owns, which are about the size of Saint Bernard dogs, won over her partner, Raymond Crist, the same way they invariably capture children's hearts.
The farm, at 92 East 1600 Road, will be a stop on this weekend's Kaw Valley Farm Tour.
Hay explained Crist didn't want her to buy a miniature colt when it was advertised five years ago on the Internet. It worked out, though, because Hay later ran into the woman who did buy the horse but wanted to give it away after it bit her daughter.
Given a second chance, she was able to bring the now 5-year-old Poke-A-Dot home.
He changed his mind, Crist said, because he loves Hay and because, he teases, she misled him into thinking she was going to sell miniatures.
Although she disputes Crist's claim she doesn't sell miniatures, Hay admits they do tend to accumulate.
"Miniature horses are like potato chips — you can't have just one," she said. "I've had horses all my life, but these little dudes are the favorite ones I've ever had."
She would never sell Poke-A-Dot nor nine others with names like Lemon Drop, Blue Print, Sweet Lips, Sweet Potato and Domino, but she said a miniature stallion was leaving the farm Tuesday and two colts would also be on the market. She also buys miniatures with the intent of selling them after training them to "drive" carts, she said.
"'There is a market for miniatures if they are trained to drive," she said. "I read an article saying that's the coming thing: Middle-aged women driving carts with miniature horses."
Training miniatures to drive is another part of her business, Hay said. She's now trained 21 horses, including her own.

"How long it takes really depends on the horse," she said. "Poke-A-Dot was different. He took me a long time because I thought that was the proper thing to do. I worked with him, worked with him and worked with him. The rest of them, I usually have them pulling a cart within five or seven days."
Crist, who runs a restoration business at the farm that restores everything from old cars to gas pumps, assists that part of the business with the fabrication of carts.
Poke-A-Dot is spoiled and tends to be the horse she takes to special events, including a trip to downtown Lawrence to give rides from Sandbar Subs, Hay said.
In addition to driving the cart, Poke-A-Dot has mastered running a small obstacle course of jumps, see-saw boards and planks, which ends with him proudly standing on a platform.
"These horses are different," she said. "They just want to please you. They want to do what you want them to do."
Poke-A-Dot will be harnessed and ready to drive the cart for this weekend's farm tour stop, while the farm's other miniatures will crowd the fence to be petted and brushed, Hay said. The farm, which also hosts birthday parties, anniversaries and other special events, has activities ready to delight visitors, including a treasure hunt, a hand-pump toy duck race, trams made of 55-gallon drums, and goats, which children will be allowed to feed marshmallows.
"We had 50 people in the yard at one time last year," she said. "A lot of them came back on the second day."
The hours for the Kaw Valley Farm Tour stop at Prairie Center Miniature Horses and all other tour sites are 10 a.m. to 6 p.m. Saturday and Sunday. Tickets, good for both days, are $10 per vehicle and can be purchased at participating farms, online at kawvalleyfarmtour.org/purchase-tickets1.html or Lawrence locations identified on the web site.
Other farms in the Baldwin City area on the tour are Ad Astra Alpacas, 169 East 1700 Road; Blossum Trail Bee Farm, 699 East 2100 Road; and Vesecky Family Farms, 1814 North 600 Road.