Hartman settling in as new Baldwin City Clerk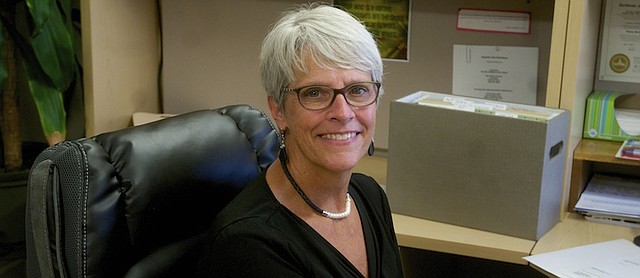 Change is good, Laura Hartman said in summary of her recent move Baldwin City Hall.
For the past 10 years, Hartman has been Baldwin school district's board clerk. She left that post to become Baldwin City clerk.
There are similarities. Hartman is now responsible for taking minutes at City Council meetings instead of board meetings, but there's still a learning curve.
"The municipal world is very interesting," she said. "It's quite different than the school district."
As clerk, Hartman also is responsible to the correct and lawful processing of city paperwork. Her new position also has her issuing city applications and licenses, she said.
Although her duties could change when a new city administrator is hired in three to four month, Hartman now is asked to serve as a liaison to community groups.
"I think that's going to continue," she said. "I've enjoyed what I've been doing so far."
Brad Smith, interim city administrator, said he was pleased to have Hartman on board in City Hall, which has been without an assistant city administrator since the resignation in July of Collin Bielser, who took a job as city administrator of Fairbury, Neb. That position would be filled until a new city administration was in place in three to four months, he said.
Hartman has been a member of the Baldwin City community for more than 35 years, having moved to the Vinland area to raise her family. She was involved in volunteer work with the school district before taking a job with the district.