Baldwin High soccer team turns season around with 2-game winning streak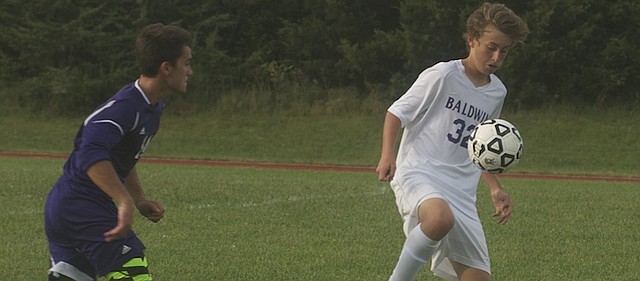 The Baldwin High School soccer team shook off a four-game losing streak with two shutout Frontier League victories in the last week.
The Bulldogs started the turnaround with a 2-0 home victory last Thursday against Louisburg. They then went on the road Monday to down defending Frontier League champions Ottawa, 4-0.
Coach Andrew Ising said his team had played well in last three losses before earning the victory against Louisburg.
"It was good to have the whole game — there was never a doubt," he said. "We possessed the ball so well."
Scoring for the Bulldogs in the match were freshman Jacob Bailey and Brendan Owings on a penalty kick after Noah Buckley was fouled in the box.
The team showed great effort from the start at Ottawa, Ising said
"We pressured the ball from the start, and never allowed Ottawa to get into the game," he said. "Caleb Othick played some really great crosses into the box that opened the game up for us, and our central midfielders (Blayne Chapman, Brendan Owings, Jacob Bailey, and Dylan Jamison) kept pressure off our own defense.
"Two shutouts in a row just goes to show how hard the whole team is working on defense."
Baldwin will now take its two-game winning streak on the road today at Paola. The Bulldogs defeated the Panthers 4-1 earlier in the season.
With its two victories, Baldwin now stands 3-5 overall and 3-3 in the Frontier League.