Baldwin lets early lead slip away in loss to Perry-Lecompton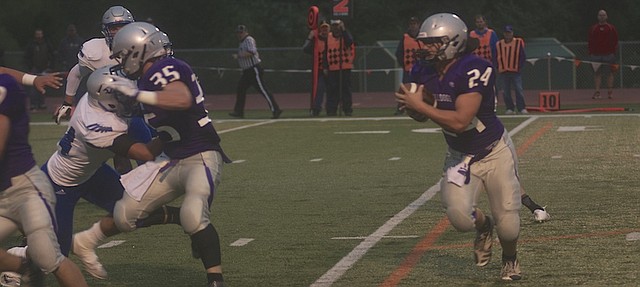 Perry-Lecompton overcame a two-touchdown first-quarter deficit against Baldwin High School to win its first game of the season, 26-20.
The Kaws scored the go-ahead touchdown with just 36 seconds to play in the contest when senior quarterback Mitchell Bond scored from 1 yard out. The play was set up with a 26 yard pass from Bond to senior Nathan Bays .
Perry-Lecompton's winning drive came after Baldwin competed a 14-play, 65-yard drive to tie the game. Senior running back Jake Katzer finished the drive with a 22-yard touchdown run.
Everything went Baldwin's way early when the Kaws fumbled the ball away on its first two possessions. The Bulldogs took advantage scoring on drives of 39 and 73 yards.
Perry-Lecompton's defense stiffened after that, and its offense was able to take advantage of a short field when Baldwin fumbled on its third possession. The Kaws lated tied the game when it drove 90 yards in the final minute of the first half.
Baldwin is now 2-1 on the year and will open Frontier League play next Friday at Spring Hill.
Perry-Lecompton 26, Baldwin 20
Baldwin (2-1) 14 0 0 6 - 20
Perry-Lecompton (1-2) 6 8 6 6 - 26
Baldwin scoring: Garrett Burkhart 6-yard pass to Justin Howard (Blake Adamson kick); Joel Katzer 75-yard run (Adamson kick), Jake Katzer, 22-yard run (kick failed0
Perry-Lecompton scoring: Mitchell Bond 24-yard run (kick failed), Bond 43-yard pass to Nathan Bays (Cole Kellum run for 2-point conversion), Kellum 5-yard run (conversion failed), Bond 1-yard run (conversion failed)