Pawz Patrol makes rounds of Baldwin schools to reward creative teachers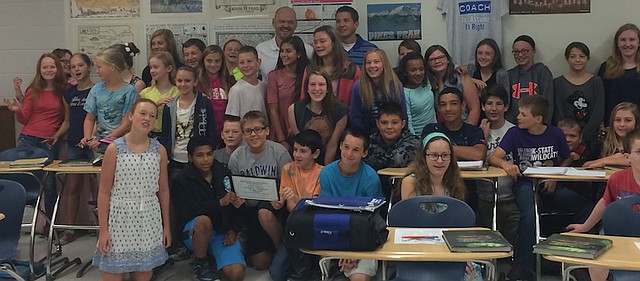 Students in first-year Baldwin High School teacher Andrew Ising's biology I and college biology classes got word Monday their studies are going to get more interesting.
2015 BEF innovative project grants
• Andrew Ising, Introducing Microbiology and Biotechnology Techniques, BHS Science. Top Vote Recipient Prize.
• April Kohrs, Simple Machines with Lego Education, BESIC. Top Vote Recipient Prize.
• Erik Bailey, Chad Scoby and Eric Toot, Cross Curricular Real World Learning, BJHS.
• Matthew McCune, Interactive History, BJHS.
• Laura McCall, Barb Schwering, Jessica Iverson and Jana Wallen, 7th Hour Project
Based Learning, BJHS.
• Patty Flory-Evans, #helpafterschool, BJHS. Presented in partnership with Mid-
America Bank.
• Becky Florance, Off My Rocker: A Multi-Sesory Approach to Reading, BESIC.
• BHS Math Team – Danielle Balsman, Mike Curran, Lori Lampe, Tom Sigvaldson
and Mike Spielman, Math Type Equation Editor. Presented in partnership with
MarLan Construction.
• Danita Price, IGLOG Digital Creations, BESIC. Presented in partnership with Kansas
State Bank.
• Katie Ellena, Wiggle, Wiggle, Wiggle, BESIC.
• Sara Johnson, Writing with Technology, BJHS.
• Stephanie Ramirez, Greenbush Engineering Mobile Science Lab, BESPC.
• Sheryl Burggraf, Using Technology for Informational Text, BJHS.
• Jessica Barker, Communication Expansion, BESPC.
• Paige Mastorakos, 3M Digital Learning Adventures & Experiences, BESIC.
• Second Grade Team – Stephanie Ramirez, Veronica Abel, Jessica Lancaster, Nicole
Turner and Heather Wallsmith, Mountain Math Kit, BESPC.
• Jill Boyle, Bullpup Book Club, BESIC.
• Fifth Grade Team – Jennie Stewart, Sara Slack, Angie Spielman, Alica Thomas and
Alison Adams, Being a Writer, BESIC. Presented in partnership with Rodrock
Chiropractic.
• Erik Bailey, "Choice Books" for 7th Grade, BJHS. Presented in Partnership with
Baker University.
The annual Baldwin Education Foundation Pawz Patrol visited his classroom early Monday morning to inform Ising and his class that the teacher's application for a BEF innovation project grant was approved. Ising's innovative project grant was one of 19 handed out Monday to 36 teachers, said BEF director Kathy Gerstner. BEF grants traditionally have been presented about three to four weeks into the school year.
The Pawz Patrol of Gerstner, Baldwin Superintendent Paul Dorathy and BEF board members shared the added good news that Ising's application was an unanimous choice of the board.
BEF innovation project grants usually are capped at $600. However as one of two top vote recipients, the grant was awarded extra cash to total almost $800.
"I plan to use the money to start a small-scale microbiology lab at Baldwin High School," Ising said. "This will include an incubator, centrifuges, and the consumables needed around the lab."
Examples of consumables are agar as a media for growing bacteria, micro-organisms and micro pipetting devices, which are tools used to deliver extremely small volumes of liquid.
In his application, Ising wrote he planned to introduce his second semester biology I students to the use of bacteria and lab techniques and delve deeper into the study and techniques with his college biology students through the use of a non-virulent, lab-safe strain of E coli.
"This unit would culminate in a bacterial transformation where students will extract a gene (lux) from one bacterium, and insert it into the E. coli K12 to cause it to glow in the dark. This kind of transformation is commonly used in gene therapy and pharmaceutical research to find cutting edge medicines and treatments for cancers, diseases like Alzheimers, and inherited conditions such as cystic fibrosis," Ising wrote in his grant application.
Ising's application further stressed the high demand for college graduates in the biosciences. That also appealed to BEF board members, Gerstner said.
"The biosciences are very up-and-coming fields," she said. "He wants to do this to introduce high school students to those techniques and studies."
Baldwin Elementary School Intermediate School third-grade teacher April Kohrs was the other top vote recipient with her application for Lego toys with gears, cranks, pulleys and other mechanical devices to be used in her and other classrooms, Gerstner said.
Money from the grant was raised from last March's annual BEF luncheon featuring BHS alum and Nashville music producer Garth Fundis, donations from alumni, use of Bulldog Cards the Baldwin State Bank offers and "the generosity of the community," Gerstner said. The 19 grants approved totaled $10,301, she said.
"That's just about where we've been the last couple of years," she said.
The innovative project grants are meant to give teachers the chance to share educational opportunities with students beyond what is available in the day-to-day classroom, Gerstner and Dorathy said.
"The BEF grants provide wonderful opportunities to add special programs we aren't doing with our regular funding," Dorathy said. "They enhance the learning opportunities for students in ways we normally wouldn't be able to afford, and they allow our teachers to be a little more creative in their classrooms."
The grants also send a message to teachers that the community values their efforts at a time when they are getting mixed messages of their worth from some in state government, Dorathy said.
"We very much thank the community for its support and what it does for the district with its support of the Baldwin Education Foundation," the superintendent said.