Greenbush mobile science lab makes first-ever outing at Baldwin City school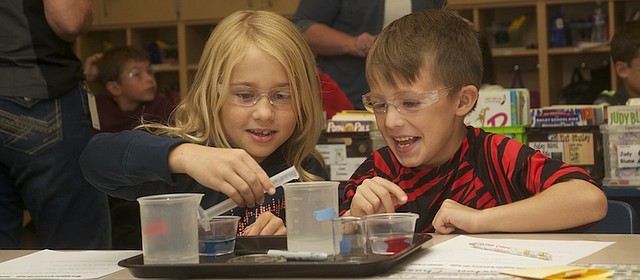 The message on scientific inquiry she shared with second-graders in Stephanie Ramirez's classroom Monday at Baldwin Elementary School Primary Center had special meaning to Sharon Bertolio.
A science teacher with Greenbush, the Southeast Kansas Educational Service Center, Bertolio was at the school to present the first-ever class via Greenbush's new mobile science lab. At the beginning and end of the lesson, Bertolio told the second-graders that trial and error was basic to science, and that experimentation often led to the modification of ideas.
"It's OK to make mistakes," she said. "That's why pencils have erasers."
Bertolio and Sheila Sandford, a fellow Greenbush teacher who made the trip from the cooperative's home base of Girard to help with the inaugural presentation, said they were taking that same approach to the new mobile lab. Nonetheless, they were both mostly pleased with how well the 90-minute class went.
They started with a natural advantage as the lesson was structured around a subject that can't miss capturing the mind of second-graders — the creation of slime.
At the start of the lesson, Bertolio showed the students slime she had made, which was much too soupy to be a good plaything. Her challenge to the second-graders was to help a manufacturer make better slime.
Working in pairs, the 20 students in the class Monday measured out borax and polyvinyl alcohol in beakers and graduated cylinders, adding more of one or the other ingredients to make their slime more solid or runny. Teaming with Danica Peterson, Braxton Chase was pretty happy with his first attempt, which had the consistency of well-chilled Jello.
"Oh yeah, I like this," he said, inviting others to poke a finger in his red goo. He added, "I really like slime," just to make it clear how he came down on the whole experiment.
But after looking at the results of the other students in the class, Chase decided he wanted his slime to be a bit more solid and carefully poured out a small portion of borax to accomplish that goal.
Taking time to grade papers as Bertolio led her class, Ramirez said it wasn't the first time slime had been featured in her classroom. The difference was Greenbush's presence, she said.
"This time I get to watch," she said. "We always used powdered borax, not the liquid form they use. We would hang the slime in old strawberry baskets below the air conditioning vents. It would seep through the holes in the baskets and get solid as it cooled from the vents. It made some interesting patterns."
Bertolio said the mobile lab duplicate lessons offered at Girard. The new lab was being offered so that more distant schools would have the opportunity to experience those labs. It's not practical or economically feasible to bus elementary students a couple of hours to Girard for a 90-minute class, she said.
"There is so much teachers are required to cover that finding time to take a day out of the classroom is really hard," Bertolio said. "Here they can have a 90-minute lesson and then go to PE."
Ramirez said she learned Greenbush would offer the mobile science lab at a Greenbush event in Eudora. She then "begged and pleaded" to get the lesson for her classroom. She talked a Greenbush administrator into reducing the cost of bringing the lesson to Baldwin City to $200, which was $100 cheaper than the first price quoted, and succeeded in getting a commitment from the BESPC's PTO to pay half that total. Ramirez said she was prepared to pay the remaining $100 herself, but learned earlier Monday that her Baldwin Education Foundation innovative project grant application for the expense was among those funded.
The lesson was a rare opportunity to share something different with her students, Ramirez said.
"It's really hard to find the time for science," she said. "Most of our time with second-graders is spent on reading, writing and math."