Face to Face: Steve Hibberts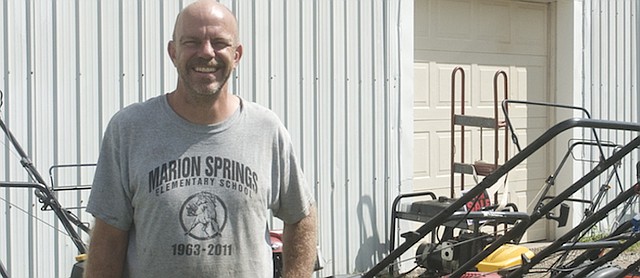 Name: Steve Hibberts
Born: Hibberts was born in Garnett but spent most of his childhood in Meriden after a few years in Topeka.
Family: Wife, Laura, and sons, Olson, 9, and Ornsen, 13. "Yes, we completely made up the name (Ornsen)," Hibberts said.
Education: Hibberts graduated from Jefferson County West High School
Hobbies: Finding, restoring and collecting old scooters and mopeds. "I enjoy working on motorized equipment of all kinds. That's why I opened this shop."
Career: Hibberts owns the FIXIT Small Engine Repair at 331 Ames St. Its two rooms encompass the two parts of his business. The back is given over to his small engine repair shop, dedicated mostly to lawn mowers. The front is filled with objects from the mundane to odd, but all represent something he or a customer thought he could sell. Sometimes the back room carries the front of the shop and sometimes the front carries the repair work, Hibberts said. The latter is especially true in the winter when the lawn mower side of the business dries up. To help with that lean time, Hibberts in considering getting into the snow removal business this winter and focusing on clearing residential driveways, sidewalks and porches.
Digging deeper: "Everybody curses growing up they want to leave their hometown. I moved back to an almost carbon copy. Meriden doesn't have a university like Baldwin, but it's 15 miles from a larger city and 45 to 50 minutes to a big city."
Hibberts said he has been surprised by how well his business has been received.
"It reflects everything I love about this town, which is honesty and genuineness. If you treat people right, they will give you their business."