Baldwin High School soccer team falls short in two league matches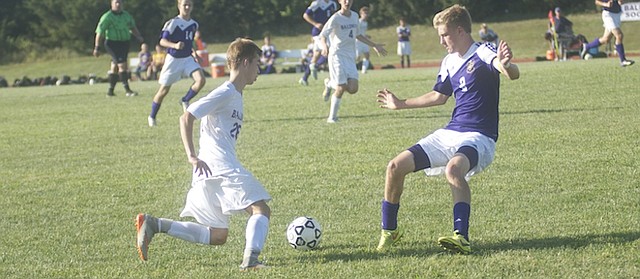 The Baldwin High School boys soccer team suffered through a tough week, dropping two Frontier League games at home.
Coach Drew Ising was most unhappy about the Bulldogs' 5-1 loss Tuesday to De Soto.
"We weren't ready to compete," the coach summed up.
Baldwin's lone score in the match came when De Soto, a team that returns eight seniors from last year's state final-four team, misplayed a ball into its own net.
The Bulldogs lost Thursday to Spring Hill, 2-1, when the team was unable to convert opportunities.
Trailing 1-0 at half and 2-0 early in the second half, the Bulldogs mounted at comeback on a goal from senior Brendan Owing.
"In so much as you can be unlucky, we were unlucky," coach Ising said. "When you play as well as we played, you have to make chances on goal."
Unfortunately for the Bulldogs, other chances at the net went unrewarded
"We hit the crossbar twice," Ising said. "We had a couple of balls come off the goalie's hands that we didn't get to. We couldn't finish it off.
Spring Hill scored its first-goal on a free kick Baldwin misplayed.
The losses dropped the Bulldogs' season record to 1-3 and fell to 1-2 in Frontier League play. The Bulldogs will be back in action at 4 p.m. Thursday in a non-league match against Basehor-Linwood. It will be the final match of what has been a four-game home stand.