New Quayle Bible Collection exhibit explores many sides of King David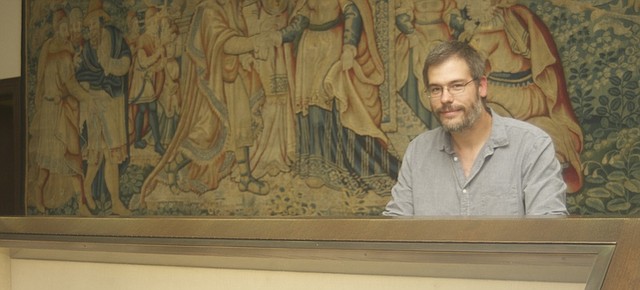 Nick Pumphrey didn't know the extent of the Quayle Bible Collection when he arrived at Baker University in the fall of 2014.
"I thought it was just a couple of old Bibles," he said. "There's things here that no one else has."
Pumphrey, who teaches religious studies at Baker, learned just how rich the collection is when he helped Kay Bradt put together an annual show from the Quayle collection before her retirement in June as Baker director of library services. The result, "King David: Poet, Warrior, Seducer, Murderer" can be viewed from 1 to 4 p.m. Saturday and Sunday or by special appointment through July 31, 2016, at the Quayle Library Collection housed in the Spencer Wing of the Collins Library.
"This year was the handing off of the torch," Pumphrey said of his joint effort with Bradt to gather materials for the exhibit. "Theoretically, I'll be doing it the rest of my time at Baker.
"Oddly enough, It was Kay's idea at first. My specialty is the Old Testament, so she thought David would be a good choice."
The collection, the majority of which one-time Baker president Bishop William Quayle purchased from the late 1800s until his death in 1925, has such a wealth of material that he and Bradt had to whittle down ideas, Pumprhrey said. For example, they had thought to display materials on David from Korans and Greek Orthodox and Hebrew manuscripts in the collection.
"The challenging part is to find space in cases," he said. "There is so much we could do if we had room to display it. We could go on and on with the collection."
Some of the best known works in the collection, such as its two 1611 King James Bibles, did not lend themselves for display in the exhibit because early Protestant Bibles were sparsely illustrated, Pumphrey said. As such, the exhibit turned to Catholic Bibles or later Protestant ones, he said.
Another task before Bradt and Pumphrey was crafting a show that would be popular as well as educational.
"Everybody knows the story of Bathsheba and the slaying of Goliath, but not everyone knows about his relationship with his first wife, Michal, or his friendship with Saul's son Jonathan." he said. "We wanted to put things in that were less familiar."
The David of the Bible was both a divinely anointed king and heroic figure. He accomplished great feats on the battlefield but had human failings, succumbing to the beauty of a married Bathsheba and orchestrating the death of her husband. That side of David, which have made him approachable through the ages, is reflected in the title of the exhibit.
"After we chose to show the human side of David in the exhibit, we looked at two books that recently came out about him that have very similar titles," Pumphrey said. "He was an heroic figure, but he had a human side. He asks forgiveness and mourns his enemies even though he killed them," he said.
One thing Bradt and Pumphrey were able to do was showcase illustrations from David's story that are depicted on a tapestry of David that is on permanent display in the Quayle Collection, Pumphrey said. No corresponding illustration was found that depicts the tapestry's central image of David and Michal's marriage, but smaller scenes of the future king killing bears and lions and Goliath are reproduced in books from the collection.
"I thought it was really cool we had the same scenes that sort of mirror each other," he said. "You can look down and look up and see the same scene."
Viewers will also see the scene of Bathsheba bathing depicted much differently in a hand-printed Italian book of hours and a later German work.
"In the German book, Bathsheba is depicted wearing clothes and washing her feet, as opposed to the Italian book we have where she was completely nude," Pumphrey said. "There may have been a version for women where she was clothed. This may have been intended for men."
Two cases in the exhibit are given over to the psalms attributed to David.
"It gave us a chance to use some of the church music we have," Pumphrey said. "A lot of early church music was on the psalms."
There is disagreement today in how the David of the Bible fits with recent archaeology, Pumphrey said. That could be a subject of one of the lectures he is considering in the coming months in conjunction with the exhibit, he said.
There is no question, however, of David's place in the works displayed in the exhibit.
"In the Christian Bibles, there was no doubt," Pumphrey said. "He was a divine-right king and ancestor of Jesus. They never disagree on his background. He was the model the kings of England were trying to follow."