Baldwin boys soccer team earns first victory of season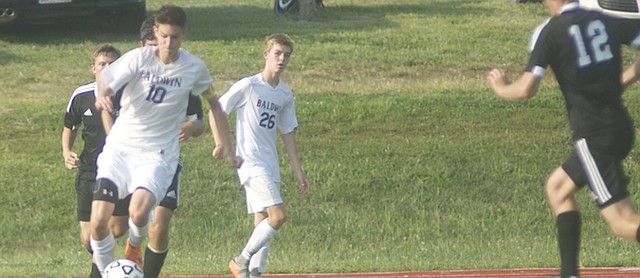 The Baldwin High School boys soccer team dominated the second half Tuesday, winning its first match of the year, 4-0, against Paola.
The victory evened the Bulldogs' record at 1-1 and marked Drew Ising's first win as head coach of the Baldwin program. The team lost its opening match, 5-1, Friday at Tonganoxie.
On Tuesday, Baldwin and the visiting Panthers played a scoreless first half. But that deadlock soon ended when sophomore Blayne Chapman drilled a goal from about 30 feet out, putting the Bulldogs up for the first time all season with 37:49 to play in the half. Twelve minutes later, Dylan Jamison scored from about the same distance on an assist from fellow freshman Ezra Steinshouer to extend the lead to 2-0.
Ising said the difference in the match's two halves was a recognition of what was available.
"We saw some stuff at halftime where we were kind of settling for an early pass," he said. "If you hold the ball that one more minute, if you take that little bit of space, things would open up for us. We did that, and it worked out."
Senior Brendan Owings would continue the second half onslaught with his second goal of the season as he took a pass from Chapman, evaded defenders in the box and scored with 20:11 to play. Chapman notched the match's final score with his second goal from left of the goal with 15:26 to play.
Meanwhile the Bulldogs' aided by a favorable crosswind allowed Paola only three shots on goal in the second half.
It was a great bounce-back win for a team that got "humbled" in the season opener at Tonganoxie, Ising said. Baldwin found itself down 1-0 at half of that match but gave up two quick goals at the start of the second period. That got the Bulldogs out of their game despite controlling the ball for much for the match, he said.
Tuesday's victory gave the Bulldogs a 1-0 Frontier League record. They will try to get their second win at home Thursday against Spring Hill. The varsity game starts at 4 p.m. As a first-year coach, he doesn't know much the Broncos but has heard Baldwin can expect a competitive match. Baldwin will be back in action on its home field with a 4 p.m game Tuesday against traditional Frontier League power De Soto.