Baker sees dip in Baldwin City campus enrollment with decline in number of Kansas high school graduates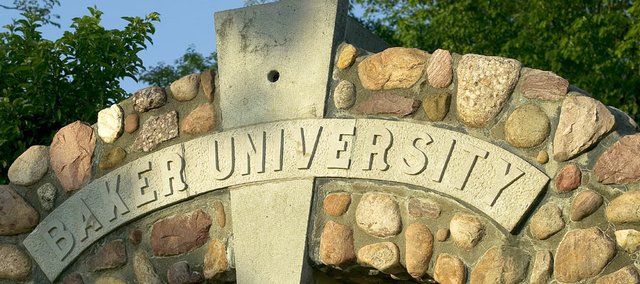 Walking from class Tuesday on the Baker University campus, freshmen Michael Mitchell, Mason Baum and Kasey Oehlert agreed one thing brought them to the Baldwin City school.
"I'm planning a nursing career," Mitchell said. "They have a great nursing program here. I think you'll hear the same thing from all three of us."
There are other nursing programs in the state, but Mitchell said Baker was an easy choice after his visit to the school.
"Baker felt really comfortable," he said. "It felt that way from the first, so that's what drove me. I didn't feel like I was just a number."
That last point was important to all three of the young nursing students, all of whom hail from small Kansas towns. Mitchell is from Sabetha, Baum from Holton and Oehlert is from Baldwin City.
Helping sway Oehlert to attend his hometown college was family ties. His older sister is a Baker graduate, as are two cousins. Perhaps more importantly, his mother works for the school, which qualifies him for free tuition.
For Baum, a big factor was the offer of a wrestling scholarship.
Kevin Kropf, Baker senior director of admissions, views the three young men's decisions to enroll at Baker and that of the other 181 freshmen who made the same choice as victories for the university.
As part of his job, Kropf closely monitors demographic trends, but he and others in the university also attempt to craft a message that will sell the school to high school seniors. It's not always easy to know what 17-year-old students are thinking, which is why he celebrates the success bringing student like Mitchell, Baum and Oehlert to Baker, he said.
His study of demographics explain why Kropf isn't alarmed that this year's freshman isn't as large as the previous two.
Last year, the freshman class numbered 224 students and there were 234 freshman the previous year. That number fell to 184 this year, Kropf said.
The number of transfer students is also down with 46 students transferring to Baker, most from the state's community colleges.
Although he didn't have an exact number yet, Kropf said Baker's Baldwin City campus enrollment was a "bit over 800."
The decline in freshmen and transfers was anticipated, Kropf said. As far as the smaller freshman class, the Baker experience is likely to be witnessed at many Kansas colleges because there are fewer graduates from the state's high schools last May, he said.
"There were fewer seniors than there's been the last 10 years and there will be 10 years going forward," he said.
The number of graduating seniors was also down in Missouri, another state that is important to Baker's enrollment, Kropf said.
More than half of Baker students, such as freshman Baum, attend the school on athletic scholarships. That fact explains Baker's decline in transfers as there were fewer athletic scholarships available this year because rosters were full and there were changes to several key coaching positions, Kropf said.
There's reason for optimism because the factors in the current year's enrollment decline are not permanent, Kropf said.
"I'm very excited moving forward," he said. "We knew what some of the challenges were going to be. We know athletically we'll have more scholarships to offer. We know we have a larger group of graduating seniors this spring."
Keys to Baker's recruitment continues to be family ties with the university, such those that as helped sway Oehlert, and success in drawing students from Johnson County and the Kansas City metropolitan area, Kropf said. Nonetheless, he said this year's freshman class was more diverse. Twenty-eight percent of Baker's freshman class identify themselves as people of color, a 4 percent increase from a year ago.
Increasing diversity will become more important in the years ahead as the number of Hispanic Kansas high school seniors grows from 3,600 in 2015 to 10,000 in 10 years, Kropf said.
The university's goal is to attract enough students to fill the Baker campus to its "on-ground capacity." That is about 1,000 students, but Kropf said that number hasn't been fully defined.
"Our goal is to enroll 230 freshmen," he said. "We need go get that number close to 250, 260 or 270 as we move forward. The things we're talking about with strategic planning is setting ourselves up to see that kind of enrollment growth."