Baldwin outplays, loses to Ottawa in regional soccer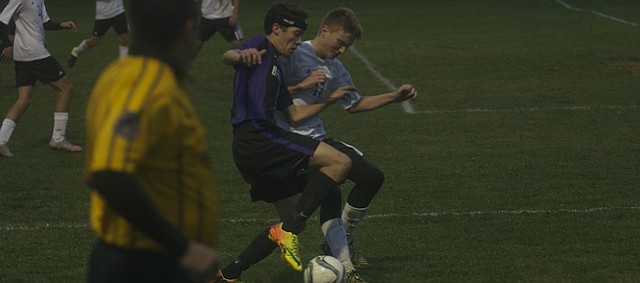 The Baldwin Bulldogs boys soccer season ended with a 2-1 loss Tuesday in Ottawa that came a minute into the third extra-time period in opening round state playoff game for both teams.
The loss was difficult one for Bulldog coach Andrew Ising, who saw his team decisively outplay the Cyclones in the last part of the second period and through two 10-minute overtimes.
"It's a fickle game," Ising said. "I don't understand it. We played great. They did everything we asked them to do. It's too bad, I would have loved to play Spring Hill again."
The Bulldogs missed two golden opportunities at the net near the end of regulation and four more excellent opportunities in the extra-time periods found the crossbar, posts or sailed wide or high. Baldwin did get one ball in the goal, but that was waved off with an offsides penalty.
"That's the thing about sudden death, it doesn't matter who is the better team, but who can get it in the net," Ising said.
Ottawa mustered little
in the way of an offensive threat late in regulation and throughout the first to periods of extra time. It scored the winning goal off a corner kick. Even it wasn't set up by Ottawa pressure, but was off a ball that trickled over the baseline from midfield.
Baldwin scored its lone goal at the 22:03 mark in the second half when Ottawa was called for a hand foul in the goalie box. Senior Brendan Owings powered in the ensuing penalty kick.
With the win, Ottawa won the season series against Baldwin 2-1. The Cyclones were the host of the playoff game on the strength of a coin flip.
Ising said he was proud of how his team continued to work in practice after a 1-5 start to the season. A commitment that was reflected on the field as the team came together.
"I think in the last nine games, we only had one bad outing," he said. "The last two months were definitely better than the first four weeks."
The match was the final contest as Bulldogs for seniors Austin Jamison, Logan Phillips, Bredan Owings, Austin Ward and Austin Langham.