Scouts invade Black Jack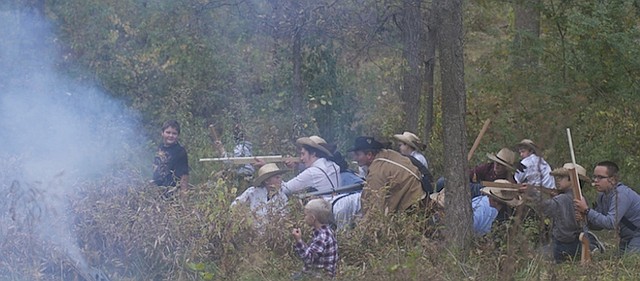 An invasion force of more than 130 strong took possession this weekend of the Black Jack Battlefield.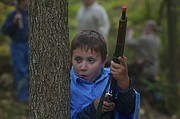 Before moving on Sunday, the occupiers staged a few battles and learned a lot of local history. That learning experience, rather than the taking of ground or prisoners, was the whole objective of the Boy Scout camporee at the historic site east of Baldwin City.
Baldwin City Troop 65 Scout Master Jeff Lundry explained that Scout troops from Baldwin City, Edgerton and Wellsville have staged for the past three years an October re-enactment of the Battle of Black Jack. The 1856 battle pitted the Free State forces of John Brown against a pro-slavery militia led by Henry Pate.
"This year, the district was looking around for camporee ideas, and we said 'What about this?'" he said. "There are 136 kids here. We have 11 Boy Scout troops and one (Cub Scout) pack."
The camporee filled the grounds of the battlefield and the Robert Hall Pearson farmstead for the full weekend, with Boy Scout campers showing up Friday and departing Sunday.
The highlight of the weekend were two Saturday re-enactments of the Battle of Black Jack. Each of the battles had a different cast of Jayhawkers and pro-slavery fighters, except for the local boys who traded playing the starring roles of Brown and Pate.
Adding a touch of realism to the re-enacted battles this year was the smoke from Halloween fog machines and recorded gunfire sounds Lee Pahcoddy provided.
"I think it added a lot to the re-enactments," Lundry said. "The kids loved it."
Hiding behind a tree as he drew a bead on Pate's line with his prop rifle during the first battle re-enactment, Boy Scout Ben Wilkerson of Lawrence said he was having fun learning history.
"I learned a lot about what happened," he said. "I learned about some of the tools they used and the skills (Brown's militia) used to hide before they attacked."
Early pioneer artifacts from Baker University's Old Castle Museum were shared with the Boy Scouts with an explanation of how Brown and Pate's men would have used them, Lundry said.
The young re-enactors also were told of the motivations of those fighting and what Brown and Pate expected to get from the battle. Alexander Arnone, 14, of Lawrence said that put in context the actions of Brown, who had recently led the massacre of pro-slavery men at Osawatomie Creek in response to a raid on the Free State hotbed of Lawrence.
"He was scary," Arnone said of Brown. "He certainly thought he was within his rights to do what he did here and later to fight slavery in this country."
Among those taking part in the staged battles was Baldwin High School sophomore Ryan Todd, a veteran with his father, Mike Todd, of sesquicentennial re-enactments of large Civil War battles like Shiloh and Gettysburg. He has helped with the Boy Scout re-enactment at Black Jack since its beginning and hoped its growth would draw more interest in it and other local Civil War sites.
"I think everybody had fun and got an opportunity to learn more about the rich history of our area, which was great," he said. "Maybe some of the kids will want to learn more or become involved with re-enactments."
Boy Scouts being boys, the Scouts mixed in some fun with the lessons at the camporee. Baldwin City Boy Scout Devere Myer said the local Scouts organized a raid on the Boy Scout campsite at dawn Saturday and a two-hour battle was planned for Sunday.
"We'll all be in the woods," he said. "It'll be a 'Hunger Games' kind of thing."