Baldwin City teen has science fiction book published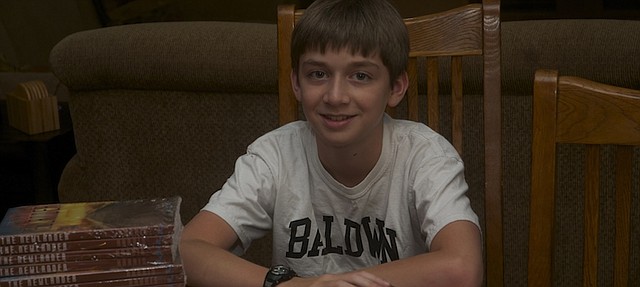 Words about his new novel are hard to coax from 13-year-old Ty Harris.
"He's shy," his mother Sarah Harris said. "He doesn't like to talk that much."
He's more comfortable when putting words to paper, especially when his mind is consumed with a new plot idea.
"His mind is always working," Sarah said. "When he thinks of something new, he is writing constantly."
The result of one such writing spree now fills a 194-page science fiction novel. The young author just received 100 copies of his self-published science fiction novel "Newlander." The book accounts the adventures of a cyborg assassin in a post-apocalyptic landscape of the American West. If dealing with a nuclear wasteland isn't enough, the hero also has to contend with a band of bad guys who very much mean to do him harm.
"It has a good ending," Ty said of his hero's fate.
He's a science fiction fan and the TV series Dr. Who is among his favorite shows, but he probably gets more inspiration from the printed page than the screen, Ty said.
"I really like reading," he said.
For Ty, the logical consequence of all that reading was writing. His parents say he has been writing for a number of years, but is something of a secretive writer.
"For a long time, he wouldn't let anybody read what he was writing," Kit Harris said. "He still doesn't like people to read his work while he's writing."
She was impressed when she finally saw a completed "Newlander" two years ago, Sarah Harris said.
"I though 'Wow,"" she said. "I couldn't believe it was my little boy who came up with all those ideas."
Kit, the journalism instructor at Baldwin High School, gave Ty's manuscript its first editing, before turning it over to his own mother, Peggy Harris, the former dean of Baker University education department, for another read.
The young novelist is learning another lesson of the writing profession. Ty now has the task of marketing the 100 copies of "Newlander" printed. His father said the family plans to create a website for that effort and make the book available through the Internet. He'll also get the opportunity to polish his direct marking skills at a book signing that the Baldwin City Friends of the Library arranged. It will be 5 to 6 p.m. Nov. 18 at the Baldwin City Public Library.
It's a skill the teen, who says he wants to be a professional writer, might want to get comfortable with because he finished another book since "Newlander."
"It's a murder mystery," he said. "It takes place is a small town in Nevada near Las Vegas."
He didn't know who the guilty party was when he started, but solved the mystery while writing the book, Ty said.