Baldwin policewoman boxing for a cause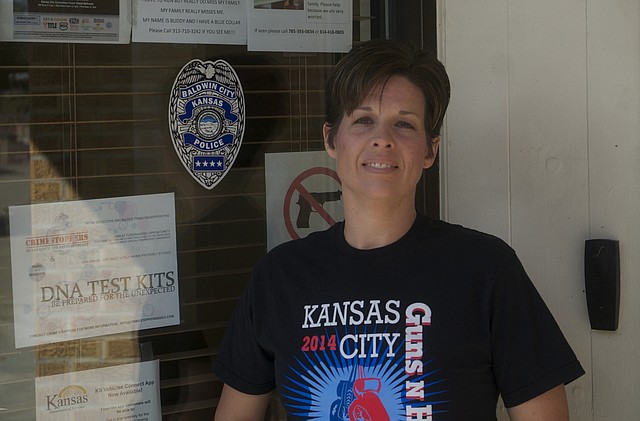 Kim Springer isn't taking her undefeated record in the boxing ring for granted.
A year ago, the corporal in the Baldwin City Police Department won a decision in a close match in Kansas City's Guns N Hoses fundraising boxing competition. The event features a card of police officers, firefighters and first responders in three-round boxing matches.
The 12-bout event will be from 7 to 10 p.m. Nov. 14 at the Kansas City, Mo., Convention Center Grand Ballroom, 1502 Wyandotte.
With a year of experience under her belt, Springer knows what's ahead of her. A fitness devotee, she said she was nonetheless exhausted last year after her three-rounds of competition against a larger opponent, and she's now training hard for her match.
"I'm in two-a-day training," she said. "This morning I was at the gym training at 6 a.m. I'll be training this evening with Mike McAtee, a Lawrence police detective."
A member of her Superior, Neb., High School wrestling team, Springer admits to being a competitive person. But Springer is attracted to the event for a much more important reason. The proceeds from the event go to the families of police officers, firefighters and other first responders who die in the line of duty. This year, the event will be a little more than a month after two Kansas City, Mo., firefighters died Oct. 12 when a burning building collapsed around them. That will add meaning and poignancy to this year's event, and Springer's hope is people respond by attending. Unfortunately, Springer can name others in the greater Kansas City area who died on duty in the past year.
"That's why I do it," she said. "I think it's important to recognize those officers and first responders who made the ultimate sacrifice protecting us. This is my way of showing respect and helping the families at the same time."
Baldwin City residents who want to support the families and cheer on Springer can purchase tickets from her or through her Facebook page for $25, which is cheaper than they can be purchased online, she said.