Baldwin cross country teams sweep Frontier League titles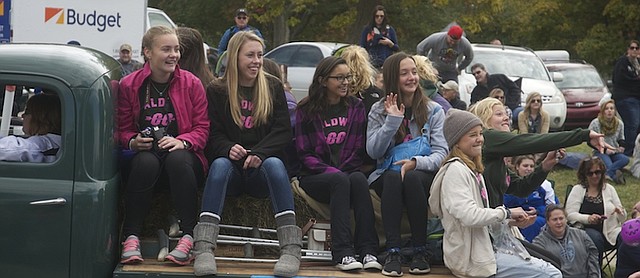 The Baldwin High School cross country teams will move on to regional competition Saturday as Frontier League Champions.
The boys defended its title team title last Thursday at Louisburg, and the girls dethroned De Soto as both dominated their meets. The boys won the title with 30 points to second-place De Soto's 51 points. The girls posted just 19 points, which was 53 fewer than the score of second-place De Soto.
"They did a great job considering it was a course we had never been on before," BHS coach Mike Spielman said of his teams. "Both teams found the spots where they needed to be at during the race. It was a great start to the championship season." 
Leading the way for both teams were the same two seniors who have paced the Bulldogs all season. George Letner outran longtime advisory Dylan Brenneman of Spring Hill to win the boys title with a time of 16:02.68. Addie Dick's competition was the stopwatch as she again set the bar for her younger teammates and future Baldwin runners by breaking her own 5K school record with a time of 18:58.56.
The Baldwin girls had six of the top seven spots in league with freshman Natalie Beither finishing third (20:16.10), senior Mackenzie Russell fourth (20:22.40), senior Fayth Peterson fifth (20:49.01), junior Taylor Cawley sixth (20:51.60) and junior Daelynn Anderson seventh (20:51.95).
Scoring for the boys were freshman Jacob Bailey fifth (16:46.67), sophomore Parker Wilson sixth (16:47.14), senior Dakota Helm eighth (17:11.87), senior Nevin Dunn 10th (17:32.81) and senior Jackson Barth 14th (17:43.76). Earning top-20 finishes were senior Phillip Carroll 15th (17:45.96) and junior Max Tuckfield 16th (17:47.08).
The Bulldogs will now compete in a 16-team 4A state regional Saturday at the Baldwin City Municipal Golf Course. The girls run at 10 a.m. and the boys start at 10:45 a.m.