Cool weather 'perfect' for Baldwin City Maple Leaf Festival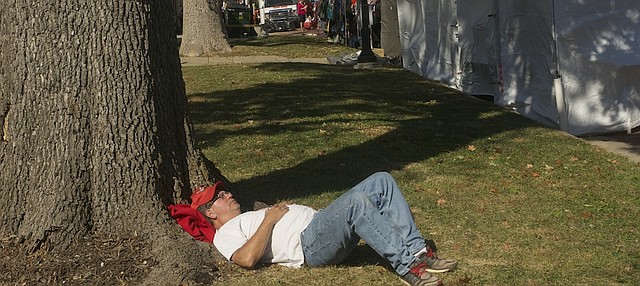 Baldwin City — As the last marchers in the hourlong Maple Leaf Festival Parade were making the north turn at Baldwin City's Sixth and High streets at noon Saturday, Sherry Johnson was taking a final minute of rest.
"It's coming," she said. "Once the parade's over, they'll be here."
That was experience speaking. For the past nine years, Johnson has worked the Heart of America Teen Challenge Ministry's food booth a block to the west of the parade route in downtown Baldwin City. The more than 400 booths at the 58th annual Maple Leaf Festival opened for business at 9 a.m. but the rush started, as usual, with the end of the 11 a.m. parade.
About 20 minutes later, the post-parade crush had found its way to the Baker University women basketball team's booth on High Street.
"It's a little overwhelming," said sophomore Sydnie Hanson as she tried to keep up with the demand for the booth's brat and hotdog specials from customers lined across High Street. "I worked last year, but not right after the parade."
The big crowds are a big part of the draw to the festival for Wichita couple Brent and Laura Sharp. It's the sixth year they've had a jewelry booth at the festival.
"This is one of our favorite outdoor festivals," Brent Sharp said. "The crowds are great, and the people are great."
With the sun breaking out at the conclusion of the parade, the temperature quickly warmed to 60 degrees after a cool night.
"My wife set up this morning with fingerless gloves," Sharp said. "She's still trying to get feeling in her fingers."
The cooler weather for the 58th annual Maple Leaf Festival was in contrast to that of recent years in which afternoon highs climbed to the mid-80s. That was to the liking of Maple Leaf Festival chairman Mike Curran.
"The weather to me is perfect," he said early Saturday afternoon. "I think people are in a better mood when it's cooler."
A Baldwin High School math teacher, Curran gave a "show me your work" reply to a request Sunday to estimate the weekend's attendance. Organizers have no way to develop a definitive figure and rely on their observations and those of festival regulars, especially vendors, he said, But he said all accounts had the festival once again drawing 30,000 plus people, he said.
"I can tell you when I looked up Sixth Street after the parade, I saw a wave of people headed downtown, so I know we had a very good day Saturday," he said. "I thought looking around today (Sunday) attendance might be a bit down, but I've had vendors tell me it's been great, so I'm going to take their word for it."
Among those impressed with Sunday's attendance was Julie Brodersen, of Grain Valley, Mo., who was in the Maple Leaf Committee's office late Sunday afternoon reserving booth space for next year. This was the eighth straight year she has sold candles, fragrances and potpourri at Maple Leaf.
"I was very busy all weekend," she said. "Saturday's attendance was very good. Today was steady.
"I can tell you I made more money this year. I've made more every year I've been here."
Festival regular India Holtgraver, of Ottawa, said, she, her sister, Candy Bollig, of Olathe, and Judy Jackson, of Ottawa, planned a hard day of shopping Saturday. One of their first stops was at the Sharps' booth.
"We always come to this booth," Holtgraver said. "They have such nice things."
The three women would spend the day at the festival, eating at one of the festival's 26 food stands.
"I don't know where yet," she said. "There's always a lot of good things to eat."
Mother and daughter Cindy and Amanda Miller of Lawrence invested a 20-minute wait before getting their turkey legs from Baker University's Kappa Sigma booth at the corner of Seventh and High streets.
"It's very good," Amanda Miller said. "I got one last year, too."
The food would energize them for more shopping in their quest for "rings," they said.