City puts many hours into transforming Baldwin City for Maple Leaf Festival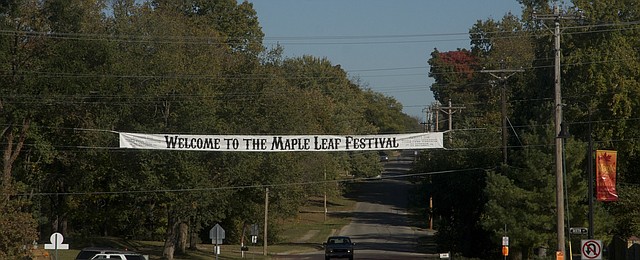 Baldwin City Public Works employees won't have much time the second week in October for routine maintenance tasks.
The week before the Oct. 16, 17 and 18 Maple Leaf Festival the city's public work employees will take the lead in transforming Baldwin City from a college town of about 5,000 into a destination shopping mecca that attracts from 30,000 to 40,000 visitors.
Baldwin City Public Works director Bill Winegar said that effort includes putting up signage that will convert regular two-way streets to one-way traffic, placing barricades near the intersections that will be blocked off during the festival, posting temporary no parking signs along many streets, setting out trash barrels and dumpsters, erecting the entertainment tent downtown, moving bleachers from the Bullpup Drives ball parks to the parade viewing area at Sixth and High streets and putting up plastic fencing to discourage parking near some corners.
By the numbers, employees will place 200 barricades, post 2,000 no parking signs, hang 50 one-way street signs, drive 560 posts into the ground and string several 1,000 feet of traffic/parking control fencing, Winegar said.
"It takes us most of the week before the festival," he said. "We try to get it done without overtime. It comes down a little faster, but we have to store everything in three different places. That takes a little time."
The city's electrical distribution crew also stays busy before Maple Leaf preparing for the special electrical needs of the festival, Winegar said. The crew started preparations in early September with the hanging of a festival banner across High Street, he said.
The city leaves to the Maple Leaf Festival Committee the tasks of marking out the about 360-plus booth spaces on about eight blocks of Baldwin City's streets. MLF booth chairperson Donna Curran said she and other volunteers start with that effort on the Wednesday before the festival. It's a task that includes masking tape, chalk and a specially improvised measuring board.
The last transformation is completed by the festival vendors. Curran said those in outside locations are forbidden from erecting booths until after 6 p.m. Friday. From that time until the festival officially opens at 9 a.m. Saturday, they are busy setting up a sea of booths on Baldwin's brick streets.