Baldwin cross country teams tune up for league meet the first-place Sabetha efforts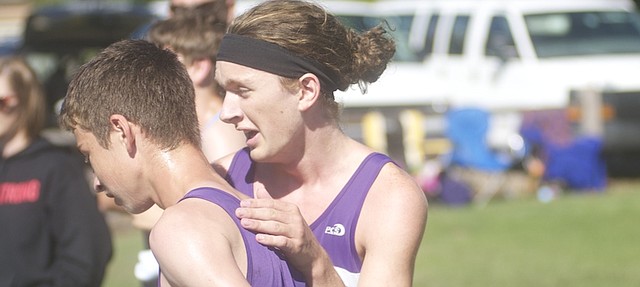 After three weeks of tests against high-caliber competition, Baldwin High School cross country teams dominated a meet of 4A and smaller schools last Thursday at Sabetha.
The boys won the meet with just 25 points and a comfortable cushion over second-place Wamego, which finished with 79 points. The girls were even better, winning the event with 17 points to the 55 of second-place Hiawatha.
"I was very happy with our effort on Thursday," coach Mike Spielman said of his runners performance in his hometown. "Many of the kids had season best and lifetime best times."
The BHS girls claimed first, second and third and three more were in the top 10. Senior Addie Dick set a personal best and broke her own school record at the 5K distance, finishing first with a time of 19:21. Senior Mackenzie Russell was second at 20:34, freshman Natalie Bieter third at 20:37, senior Fayth Peterson fifth at 21:18, junior Cawley Taylor eighth at 21:28 and senior Daelyn Anderson 10th at 21:34. Senior Hollie Hutton also claimed a top-20 finish, placing 19th with a time of 22:48.
The boys also had the top-three finishers. Senior George Letner crossed first, cracking the 16-minute barrier for the first time with his personal best time of 15:51. Sophomore Parker Wilson was second with a time of 16:49, Nevin Dunn third at 17:01, senior Jackson Barth seventh at 17:28, Phillip Carroll 12th at 17:38, Max Tuckfield 16th at 17:46 and Dakota Helm 18th at 17:55.
The Bulldogs will compete today at the Frontier League Meet in Louisburg at the Lewis and Young Park northwest of the town. The girls run at 4:30 p.m. and the boys start at the conclusion of that race.