Baldwin Bulldog football team looking for reset in district play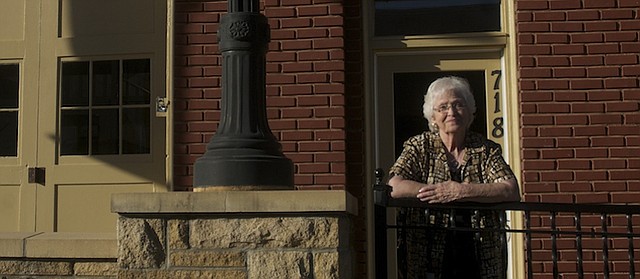 It is a good time for his team to get a reset, Baldwin High School football coach said Friday after the Bulldogs' 34-6 loss to Paola.
Baldwin will start district play Friday at De Soto, and as Berg reminded his team after the game, the Bulldogs and all other teams had 0-0 records as district play starts.
What Berg challenged his team, his coaching staff and himself to find was the ability to consistently bring the efficiency with which they started Friday's home game against Paola. After receiving the opening kickoff, the Bulldogs marched 77 yard in 14 plays, scoring on a one-yard run by junior Justin Howard. The crisp drive had senior quarterback Garrett Burkhart taking snaps under center and the team using the wildcat formation iwth direct snaps to senior running backs Joel and Jake Katzer.
"We need to hit the reset button," Berg said. "We have a lot of discouraged kids right now because there are times we look like a pretty decent football team. To have an eight-minute drive against that team and go down and score? As a coach, I have to find out what is keeping us from being consistent."
The Bulldogs defense was also sharp at the start, forcing the Panthers to punt on its first possession. Paola, which has only lost once this season, got its offense cranking on its next possession as the Panthers drove 55 yards on seven plays to take a 7-6 lead midway through the second quarter. Paola got on the scoreboard again with 4 minutes remaining in the half when quarterback Ryan Gleghorn connected with 6-7 senior tight Alex Wilson on an 11-yard touchdown.
Paola put the game away when it scored on its first two possessions of the second half. Meanwhile, Baldwin was unable to gain a first down in its first three possessions of the second half. The Bulldog running game that started so strong Friday and has been a team strength all year gained only 149 yards against Paola.
As a result, the game was played mostly on Baldwin's side of the field and Paola took advantage of the great field position.
Berg said the Bulldogs have probably played the best two teams in the Frontier League in the last two games against Paola and Louisburg, but said the road ahead in district play would be tough. The 4-2 De Soto teams owns a victory against Louisburg, he said.
"They have a lot team speed. They have a great coach, and they have 90 kids out this year. We're going to regroup and see what we can do next week."
With the loss, Baldwin is 2-4 on the year and 0-3 in the Frontier League.