Maple Leaf Festival grand marshal honored for work with festival, Lumberyard Arts Center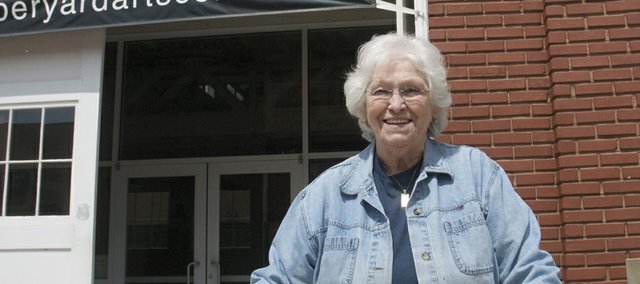 This weekend, the Lumberyard Arts Center will be filled with Maple Leaf Festival arts and crafts booths. There was a watercolor class Tuesday afternoon and Baldwin City PEO meeting that evening. Artists will gather to work on their art during an open studio Thursday afternoon, and a showing of the art of the late Tom Russell overflows from the gallery into the main courtyard.
All that activity is what Sandy Cardens envisioned when she had the inspiration 13 years ago to convert the closing Baldwin Lumber Company into a community arts center.
"I thought it would make a wonderful arts center," she said. "It could have been razed. There was some talk about making it into offices, which would have been all right but we wouldn't have the arts center."
Cardens acted on her idea by being one of the co-founders of the Lumberyard Arts Center Project, which formed after a community meeting in June 2003. That group worked for the next six and a half years to complete the Phase I transformation of the 1914 Ives-Hartley Building into an arts center that now includes offices, an art gallery, courtyard, classroom, meeting room, kitchen and restrooms. It was an effort that included a lot of volunteer sweat equity in making the renovations and work organizing fundraising events to support it.
The result is not quite what Careens first envisioned when she first thought of renovating the building. At first, she thought the window-lined clear story could be transformed into artist studios.
"You think of all sorts of things that gave way to what we have," she said.
Because of her efforts for the community, Cardens has been named the grand marshal of this year's Maple Leaf Festival Parade.
"Sandy spent many years as the booth committee chair for the Maple Leaf Festival," said Maple Leaf Committee chairman Mike Curran. "She knew every vendor and could tell you exactly where their booth was located right off the top of her head," he said. "During her last few years on the Maple Leaf committee, she became a founding member of the Lumberyard Arts Center, is currently a LAC board member and spends countless hours volunteering in many capacities."
Riding in a parade car with Cardens will be her husband, J.T., but she said many more should be recognized for their work in making the arts center a reality.
"I can tell you there should be a lot of people in that car in the parade," she said. "They would need a trailer behind the vehicle for all the people who played a part in this. This couldn't have happened without a lot of volunteers, and we are still ran exclusively by volunteers."
Cardens recalled now Baldwin City Clerk Laura Hartman joined her in the important first step in 2002 of visiting with officials of Baldwin State Bank about their idea for the closed lumberyard the bank owned.
"We owe a huge thanks to the board of the bank who let us play around with the building for 10 or 11 years before they signed over the deed in January," she said.
She started reaching out to people in the community, including longtime former Lumberyard board members Diane and Jim Niehoff, who contributed their experience in restoration projects, construction knowledge and countless hours of volunteer time during the renovations.
Phase I opened in March of 2010. It is satisfying to see the arts center fulfill the promise of early promoters of being the home for the arts in Baldwin City, said Cardens, who remains on the Lumberyard Arts Center's board.
The arts center now has regular shows, including the current show of work of Russell, a longtime head of the Baker University art department, and classes in the arts. Cardens said the building also was used as a meeting room for Baldwin City clubs and businesses and as a special events venue for weddings, anniversaries and family reunions.
"More people from out of town are finding us and more community members with out-of-town visitors are making it a point to come in," Cardens said. "We always make it a point to inform out-of-town visitors where they can eat, stay or shop. I think there is appreciation from businesses about what we bring to downtown."
The activities that she finds particularly gratifying are the classes in the visual and performing arts for children, she said.
"I think it's great we have the classes for the kids and that we get to display their work," she said. "I know when I was in grade school, I would never have dreamed of my work being in an art gallery."
The visions she had about transforming the closed lumberyard have been replaced by whispers from the late Mary Swan, Cardens said. Swan, whose husband Tom Swan owned the Baldwin Lumber Company, was a significant supporter of the arts center and the planned theater will bear her name.
Architectural plans have been developed for the theater, which will occupy the unrenovated back half of the building. Among the proposals to move that $900,000 project forward is the arrangement with the city to help with the financing through a public building commission, and the theater expansion is on the city's current capital improvement project list.
"I keep hearing Mary Swan whispering, 'When is the theater going to get started?'" Cardens said. "One way or another, that's going to get done."