Proposed bill would affect Baldwin school board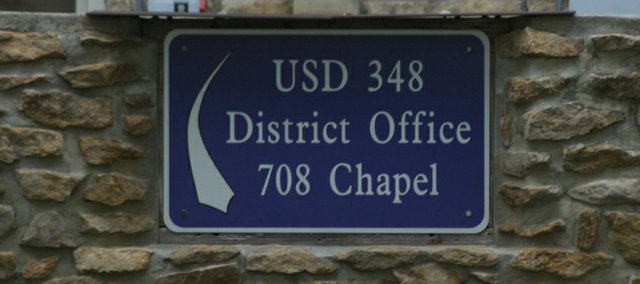 Three members of the Baldwin school board could not have run for their seats if a bill now being considered by an interim legislative committee had been in place when they were elected.
The bill would prevent board members from serving on boards if they or a direct family member worked for any public school district in the state or the Kansas Department of Education. The bill would also ban board members from serving if they did business with the district.
Two current Baldwin school board members, Ivan Huntoon and Greg Kruger, have wives who work for the district, and board member Nick Harris works for the Ottawa school district.
Baldwin Superintendent Paul Dorathy said as the bill was now written, Kruger and Harris also couldn't serve because of the district's policy of potentially making deposits in all three local banks. Kruger is president of Kansas State Bank, and the Harris' wife, Martha Harris, serves on the board of Baldwin State Bank.
That's just the obvious links, Dorathy said. Board members may reveal more when they fill out the surveys the interim committee sent to board members serving on the state's local board to find out the consequences of the legislation.
"I don't know if it applies to the Baldwin district, but it would apply to that board member who had a brother or sister driving a bus for, say, the Great Bend district," he said. "I think it is positive they are doing the survey to find out what the effects of the bill would be."
His guess is that the survey will reveal many current local board members couldn't serve if the legislation were in place, Dorarthy said.
"It may not be a problem in Wichita or other larger cities, but I think it would be a greater problem in smaller communities where the school district is often the biggest employer in town," he said. "In a smaller district, it's hard not to have those kinds of connections."
Baldwin board members recuse themselves from voting when there were potential conflicts of interest, Dorathy said. 
"Many times, they leave the room during the discussion," he said. "The point of the Kansas Association of School Boards is that local voters can make the decision on who can represent them as board member."
State Sen. Tom Holland, D-Baldwin City, characterized the bill as "stupid" and "hypocritical." It and bills like it were meant to distract voters from Gov. Sam Brownback and the Republican Legislature's failed fiscal policies, he said.
"I'm sure it will get a lot of votes, particularly in the Senate where you have a group of people who hate public education," Holland said.
If the Legislature was serious about conflicts of interest, its members would ban their own acceptance of dollars from political action committees or Secretary of State Kris Kobach from controlling a PAC that attempts to influence elections he's charged with overseeing, Holland said.
"The people who come up with this stuff have blinders on," he said. "I don't know what the purpose is other than to cripple local school boards and cause chaos."
Harris, too, questions the purpose of the bill. He noted the Baldwin district has had problems filling candidate slates in recent elections. He also found puzzling the attempt to ban him and others teaching in other districts from serving on boards.
"I think it's important you get that point of view of education professionals on school board," he said.