Baker marching band festival to bring 19 bands to Baldwin City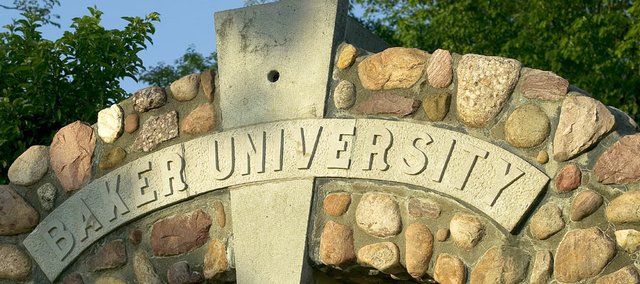 Those who go to football games for the halftime shows will want to be at Baker University's Liston Stadium on Oct. 14.
Baker University will be the host of its annual marching band festival from 1:30 to 8:30 p.m. that day at Liston Stadium, said Frank Perez, Baker University band director. With 19 marching bands, four drum lines and four color guards from schools in Kansas and Missouri, it will be the largest in the festival's 17-year history, he said.
The bands will all be vying for the ratings and the event's title, which last year was claimed by Iola High School in a "very, very close" decision over De Soto High School, Perez said.
Like the other competitions at Liston Stadium, the festival is a spectator event, and Perez invites the community to come watch the bands, drum lines and color guards do their routines.
"It's entirely free," he said. "There will be bands all day long really, but seeing as how people have to work, the marching band competition starts again at 6:30 in the evening. We generally have a decent crowd of parents and family members and people from the community."

It is a community event with the Baldwin City Lions Club and American Legion joining Baker's music department and the school's musical education students in staffing the festival, Perez said. The music education students will staff the concession stand during the festival as a fundraiser.
The Baker festival is different from many others in the state because it caters to smaller school and only 1A through 5A schools can attend, Perez said. This year, the bulk of the schools will be 4A schools with St. Thomas Aquinas being the only 5A school in attendance.
Baldwin High School will not participate, but BHS band director Will Cooper will.
"He won't be getting off free," Perez said. "He will be tabulating all our scores. It's one of those jobs that it's really a plus to have a band director doing, especially someone with Will Cooper's credentials."
The event is important as a recruitment tool for the Baker Music Department as it draws students from many of the schools attending, including De Soto, Louisburg, Spring Hill and Iola, Perez said. It also is one of the events that allows him as a second year Baker instructor to build relationships with band directors in the state, he said.
As important as that is, Perez said he gets personal satisfaction from continuing a tradition his predecessor Ray James started 17 years ago.
"For me, the most important thing is we provide a positive learning experience for the bands from smaller schools," he said. "I'm really proud band directors enjoy coming here and proud of the positive feedback we receive."