Louisburg pulls away from Baldwin in second half for 24-7 victory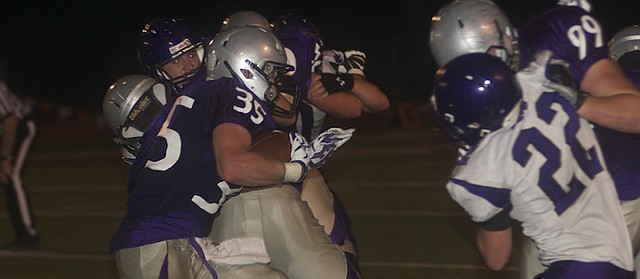 Louisburg scored two fourth-quarter touchdowns to pull away from Baldwin in the Friday, claiming a 24-7 Frontier League victory.
The visiting Wildcats took the lead for good with 35 seconds remaining in the second quarter when they drove 70 yards in just more than a minute. Louisburg's senior quarterback Austin Terry connected on 3-of-4 passes. The six-play drive ended when Terry connected on a 13-yard touchdown pass to sophomore Kyle Allen.
The quick score answered Baldwin's 62-yard, six-play drive that gave the Bulldogs their only lead of the night at 7-6 with 1:35 to play in the half. Baldwin junior Justin Howard broke off his longest run of the season when he went around the right side for a touchdown on a 4th-and-1 play from the Louisburg 38-yard line.
"I though we played with a great intensity in the first half," Baldwin coach Mike Berg said. "We came out fired up, and we went nose to nose with probably the biggest team we'll play this year. We just have to maintain that intensity the whole game."
Baldwin senior Garrett Burkhart ended a Wildcat first-quarter scoring threat when he outfought a Louisburg receiver for the ball and an interception in the end zone. Baldwin then drove to the Louisburg 30-yard line before turning the ball over on downs.
The bigger, more experienced Wildcats blunted a Baldwin fourth-quarter drive that moved the ball as far as the Wildcat 23-yard line before penalties put the Bulldogs behind the chains. Another promising fourth-quarter drive ended when the Bulldogs fumbled the ball away on the Wildcat 43-yard line.
Meanwhile, Louisburg put together an efficient 60-yard drive, which ended when Terry scored from a yard out with 11 minutes left in the fourth quarter, and took advantage of the fumble to drive 57 yards from the game's final score. The Wildcats drew only one penalty in the game, and that flag came in the final three minutes.
"They are a very well-coached experienced team," Berg said.
Berg said the loss didn't ruin Baldwin's season and there remains much to play for in Frontier League, to say nothing of district play against De Soto, Ottawa and Eudora.
"Our league is very balanced," he said. "De Soto beat Paola. Paola beat Louisburg. I thought De Soto was the cream of the league, and tonight Spring Hill beat De Soto and is now 2-0 in the league. 
Paola is next for the Bulldogs, visiting Liston Stadium on Friday.
Louisburg 24, Baldwin 7
Louisburg (4-1) 0 12 0 12 - 34
Baldwin (2-3) 0 7 0 0 - 7
Baldwin scoring: Justin Howard 39 yard run (Adamson kick)
Louisburg scoring: Thomas San Agustin 3-yard run (kick failed); Kyle Allen 13-yard pass from Austin Terry (2-point conversion failed); Terry 1-yard n (2-point conversion failed); Will Ridley 9-yard run (kick failed).