Kansas City Connection: Pick up a unique gift at an upcoming arts and crafts fair
Every year around Thanksgiving, my family members and I reach a group decision not to buy gifts for each other aside from one "Secret Santa" name drawn from a hat.
Everyone is on a budget, and we all agree that we don't really need any more stuff. But by the time Christmas rolls around, that pledge is pretty much forgotten. You get a small gift for one family member, then don't want to leave someone else out, and the whole thing snowballs from there.
So the past few years I've found a compromise and tried to A) shop small, and B) buy as many gifts from local artists and craftspeople as possible. No, it's not going to save Western Society, but it's more fun than desperately clicking around Amazon's Deals of the Day.

Next weekend in Kansas City, several independent holiday arts and crafts fairs will give shoppers and arts fans a chance to check out a wide variety of items for purchase.
The largest is the fourth annual Holiday Swing event, which features over 85 handmade and vintage vendors, food trucks, live music, a photo booth and a kids craft area sponsored by the local Dare to Dabble art studio.
The Holiday Swing runs 10 a.m. to 8 p.m. Saturday, Dec. 5, and 11 a.m. to 6 p.m. Sunday, Dec. 6, at the Uptown Theater Shoppes at 3600 Broadway. Check out thestrawberryswing.org for more information about vendors and partners.
On Friday in the Crossroads, the Gypsy Market Holiday Sale runs from 5 to 9 p.m. upstairs at The Bauer Building, the art and event space at 115 W. 18th St. between Baltimore and Wyandotte.
The Gypsy Market includes 30 different vendors, with a wide variety of products including ceramics, soaps, jewelry, clothes and wood art. Examples of the crafts can be seen at facebook.com/GypsyMarketRoyale. While you're on the block, head across the street to YJ's Snack Bar for a coffee, slice of pie, or the Friday night dinner special, African chicken.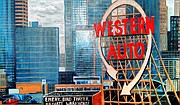 The arts organization Hello Art is sponsoring a Small Works Show and Holiday Sale from 10 a.m. to 5 p.m. Dec. 6 at the Hotel Phillips.
Located at 106 W. 12th St. (12th and Baltimore), Hotel Phillips is an upscale hotel in a renovated historic building from 1931. The hotel also features a studio for visiting artists and a restaurant and bar called 12 Baltimore.
The event will include a selective group of 30 Kansas City artists, with most works for sale for less than $100. Live music will be provided by Jessica Paige, The Snow Globes, Vi Tran, Victor & Penny and others. Mimosas, bloody marys, coffee and hot chocolate will be provided, along with a cash bar. Admission is free. Visit helloart.org for more details and a list of participating artists.
Anyone looking to check out the next/most current wave of area artists should visit the Kansas City Art Institute's end-of-semester exhibition and sale, which showcases contemporary student artwork from the departments of ceramics, digital filmmaking, fiber, graphic design, illustration, painting, photography, printmaking and sculpture. Students' open studios will be located throughout the campus, and the H&R Block Artspace at 16 E. 43rd St. will be open throughout the weekend.
The event at KCAI runs from 5 to 8 p.m. Friday, 10 a.m. to 5 p.m. Saturday, and noon to 5 p.m. Dec. 6. I've purchased several gifts at previous sales, and also missed a couple of opportunities to buy works by painters that I really wish I had invested in earlier. Check out kcai.edu for a map of campus and more information.
The Kansas City Clay Guild is also hosting an open studios and holiday sale event the same weekend at 14 different studios across the city, featuring the work of several dozen artists, including ceramics, jewelry, glass art, metal sculpture, weaving and silver gifts. Visit kcclayguild.wildapricot.org/holiday-sale for a map of locations, or call 816-363-1373 with any questions.
Downtown Dazzle
The new streetcar won't be running until 2016, but over the next three weekends, five free holiday trolleys will be running a similar route between the downtown Marriott, the Power & Light District, Union Station and Crown Center as part of Downtown Dazzle.
The trolleys are sponsored by Google Fiber, and a photo station featuring a 20-foot snow globe will be available for visitors to use for free. The snow globe will be located at Crown Center (Dec. 4, 5 and 6), the Power & Light District (Dec. 11, 12) and Union Station (Dec. 18, 19 and 20). For more information, visit dazzlekc.com.