Baldwin City family thankful for Habitat selection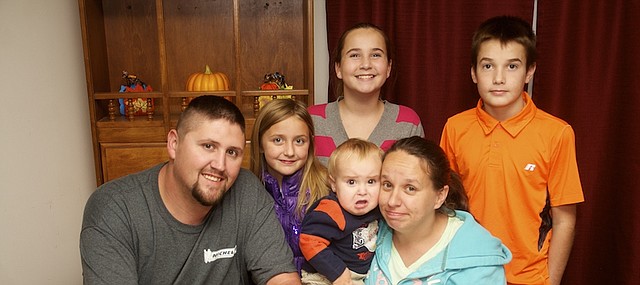 Sitting at the dining room table Sunday at her parents' home, Alicia Bayless answered a question from her 12-year-old son Cody by pointing to where on floor plan drawings the large bay window will be on their new home.
She and her family spend a lot of time with the floor plans, Alicia said, as they look forward to moving in about 10 months to their new home from her parent's rural Baldwin City farmstead.
"Oh yeah, that's one of our favorite things to do," she said. "We're a family of six crammed into two bedrooms, so we're very excited."
When the Bayless family of Alicia, her husband, Josh, and four children Cody, Haylee, 14, Alison, 8, and Jason, 1, sit around that same table at her parents' home later this week for their Thanksgiving meal, they will have a common reason to be thankful. If all goes as planned, the family will move next September into its new Baldwin City Habitat for Humanity home.
"We love Baldwin City, and we love the school district," Josh said. "We're very thankful we are going to be able to stay in Baldwin. It's so safe and quiet. I feel safe with the children playing outside."
Not too long ago, Josh and Alicia weren't sure their family would be able to stay in the community.
"With bills going up and less money coming in, we thought we might have to move to Lawrence," Alicia said. "We were renting a great home with a lot of character, and it had a nice yard the kids loved. But it was 100 years old and not very energy efficient. The utility bills were eating us up."
Further pinching the family's budget was the need for Alison to become a stay-at-home mom when she could no longer take baby Jason to work with her at D&D Tire in Lawrence.
"I took him to work with me the first six months, before he got older and started moving around more," Alicia said. "With bills going up and less money coming in, we thought we might have to move to Lawrence."
The family's fortunes changed when Alicia picked up a flyer in the Baldwin City Public Library, inviting families to apply for the opportunity to own the new home that Lawrence Habitat for Humanity plans to build next year in Baldwin City. Alicia said the family filled the initial application and went through two more rounds of applications and interviews before being selected.
"There were three or four families who applied," she said. "It was close between us and another family."
With the news of the selection, the family moved in with her parents. Although work on their home won't start for five more months, the family is involved with the construction of homes Lawrence Habitat for Humanity is now constructing in Lawrence. It's been a good learning experience and preparation for the sweat equity the family will be required to contribute in the construction of their home once ground is broken in April 2016.
"I'm a mechanic not a carpenter," said Josh, who has worked for nearly five years at D&D Tire. "But I'm a quick learner. I like that idea, because it makes you appreciate it more when you do some of the work."
The children are eager to help, too, although Haylee said their efforts will be limited to landscaping and — she hoped — painting.
The experience of helping with Lawrence homes also has given the family a glimpse of what their future home will look like, because one house there shares the same five-bedroom, two-bath floor plan as the home to built a now empty lot on the northwest corner of 11th and Fremont streets. Sisters Haylee and Alison have already picked out their bedrooms, and the family is considering the color of interior and exterior walls.
"We will look around the neighborhood and pick a color that fits in," Josh said. "We don't want the neighbors to think we're too flashy."
As the Bayless family looks forward to starting work on the home this spring, a local steering committee Bill Neuenswander and Bootsie Lauridsen head is working to raise the remaining donations needed to construct the house.
Neuenswander said goal is to raise $40,000 by the end of January, adding the fundraising benefitted from a "generous donation" from Kay Parkin in the name of her late husband, Larry.
"We're about a third of the way there or more," he said. "We're just getting started. I'm confident we'll get it together."
The Bayless family will grow by one when they move in the new home as they add another puppy to the dog and two cats they already have.
"Mom said we could get a new puppy when we got the house," Haylee said. "She thought she couldn't say that because we wouldn't get selected, but we did."